Hundreds of young Canterbury entrepreneurs kickstarted into action
Over 650 of Canterbury's youngest entrepreneurs, from 23 different high schools, filled up the Whareora gym at Ara Institute of Canterbury yesterday (Thursday 27 February), for the first event of The Lion Foundation Young Enterprise Scheme (YES) calendar: Kickstart/Tīmata 2020.
This one-day workshop is the start of an exciting year-long journey in which the students will develop and market their first business, under the guidance of more than 100 mentors from Canterbury business, education and start-up communities.
"It went great!" says, Elizabeth Pittman, Head of YES. "The students had a busy day and now they're leaving energised and ready to get on with developing their ideas."
The eager secondary school students have big aspirations and why shouldn't they? YES has a great track record of helping shape young entrepreneurs into the successful business people they are today, such as Nathalie Whitaker- founder of Givealittle, Lisa King- founder of Eat My Lunch and Stefan Lepionka -creator of Charlie's Juices.
Just last year, a Canterbury team of Cashmere High School students won Company of the Year at the YES national competition with their product PIVOT- an instant ice-cold sports strapping tape.
Yesterday a couple of the PIVOT team attended Kickstart, putting themselves in the position of speed coaches and sharing their YES experience with the 2020 cohort.
Wayo White, from Pivot said, "Kickstart was such an amazing experience. There was such a range of ideas and talent and I'm totally excited to watch the progress of this year's young entrepreneurs!"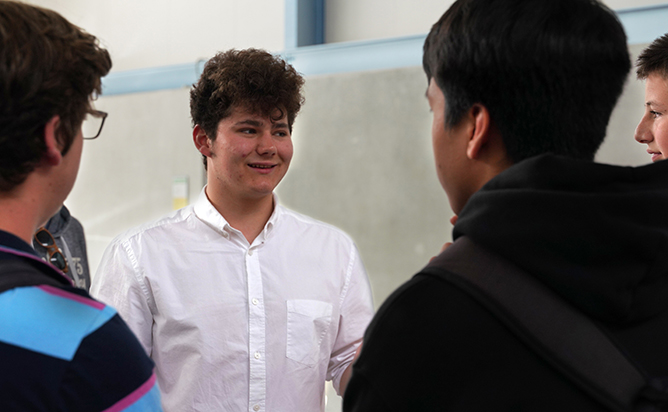 Wayo White from PIVOT speaking to YES attendees
Following the Kickstart event, the young entrepreneurs will continue to work on bringing their business to life. The top teams will compete at the Regional Finals in October, pitching their idea in front of a panel of judges for a spot to represent Canterbury at the National Final.
Idoia Alday Gonzalez, Young Enterprise Scheme - Canterbury Regional Coordinator said, "Through the YES programme, students will learn key business and life competencies. But foremost, they will gain the confidence to become drivers of change at a young age."
"YES gives students some amazing opportunities. It helps identify the disruptors of tomorrow (the individuals that will make the biggest impact in our communities) and it opens their eyes early on in their adult lives through overseas travel, mentoring opportunities and international business experiences."
The students are asked to keep four types of outcomes in mind when making decisions throughout the experiential scheme- social, environmental, economic and cultural sustainability.
"Our hope is that after their YES experience (and whether they go into further study or not) many students will look at their future and the future of NZ differently."
Canterbury is still the region with the most participants in the YES competition and as the region continues to grow, this year is will be divided into sub-regions Canterbury Ōtākaro North and Canterbury Ōtākaro South.
--------------------
Ara is a regional partner of the The Lion Foundation Young Enterprise Scheme. The programme aligns closely with Ara's approach of experiential, real world learning, which helps to develop problem solving, leadership and communication skills.
YES is also proudly sponsored in Canterbury by:
Rotary Club of Christchurch Sunrise
Cyclone
Baldasso Cortese Noordanus
E3 Accountants
Powell Fenwick
Chartered Accountants Australia and New Zealand"
If you are interested in finding out more about how you can become part of our YES whanau contact us at YES@ara.ac.nz