Holograms create new career niche
When Sarah Ball was at high school in the UK in the 1990s, IT was something boys did. "I was interested in computers but back then only boys got to do computing at school," she says.
Although she was denied the chance to learn then, she's more than made up for it now. Having just completed a Graduate Diploma in Information and Communications Technology at Ara, Sarah is about to embark on a career in the specialist field of holographic content creation.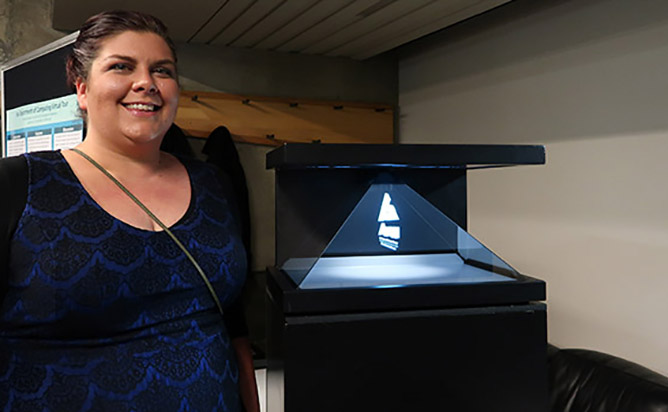 Sarah with her industry project
Sarah got to this point in a rather roundabout way. A keen creative, after high school she did a fine arts degree in painting and sculpture with the hope of becoming an artist, curator or gallery owner. "But it's one of those worlds where unless you're the absolute best, or you've got the money to establish and support yourself, it's not a viable option," she explains.
Facing that reality and needing to make ends meet, Sarah worked in sales and event management for several years, including in New Zealand after coming here for an OE and deciding to stay.
"I ended up in a job quite high up the ladder but I didn't want to be doing that work for the next 30 years. I wanted to get back into doing something creative and I wanted to be challenged."
That's when IT came back into the picture. "I'd been using a lot of business software that was functional but it wasn't intuitive and it certainly didn't look appealing. I thought 'I can do better than that' and so I decided to study IT with idea of working in web or app design."
Making the leap back into tertiary study was a challenge for the 35-year-old, especially as she had no previous experience in IT. "The first month was exciting and terrifying and incredibly hard. But I adapted, worked hard and I got there."
Sarah says being in small classes, with tutors who knew her background and understood when she needed extra support, made all the difference. "In a class of 25 people you can put your hand up and ask a tutor to go over something again. You can't do that in a lecture theatre of 200 to 300 people. My tutors got me through the really challenging times. Their support was amazing."
Now, having just completed her final exams, Sarah is preparing for self-employment in a niche area of IT, all thanks to an opportunity that arose during her final semester industry project.
"Christchurch Airport wanted to use holograms to enhance the visitor experience," Sarah explains. "So using the IT skills I'd learned and with the support of my tutors and project supervisors, I taught myself how to create them."
Sarah then applied her holograms over a static, physical model of the existing airport. The result is an engaging display that tells visitors the story of the developments and innovations taking place at the airport. "It's digital imagery interacting with actual real things," she says. "It's entertaining, interactive and it creates a real point of difference for the airport."
With the successful airport project under her belt, Sarah's focus now is on making her specialist skills available to businesses throughout New Zealand, and finally enjoying the fulfilling, creative career she always desired.
"Before returning to study, I had this vague idea that I'd do web design because I didn't really know of the other possibilities. Ara has shown me that there are amazing niches you can slot yourself into and I've found my niche with holograms. It's exciting and creative and it's got huge potential!"