Full STEAM ahead for Timaru Ideas Festival
"When you see other people doing something that you think is really awesome, it's easier to see yourself doing it," Cassa Grant, Communications Manager of the Ideas Festival says.
This is how the Ideas Festival proposes to inspire students on Friday 28 September at Ara Institute of Canterbury's Timaru campus, with around 250 kids expected to attend. The event was developed in Nelson and this is the first time it will be held in Timaru.
The Ideas Festival will provide an environment for South Canterbury students in years 7 and 8 to have fun exploring and learning through self-selected interactive workshops in Science, Technology, Engineering, Arts and Maths, known collectively as STEAM.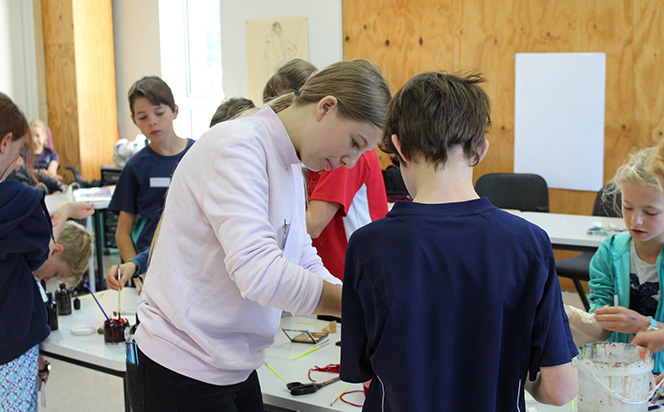 Annie Mae Davies, leader of the Special Effects Makeup workshop.
"When you immerse yourself in the arts and really starting challenging your imagination and creativity, you start to stretch different muscles in your brain… when you put that together with technical and scientific analysis, that's when you start making some really cool stuff!" Grant says.
Through the partnership with Ara, the Ideas Festival can provide students with access to a regional tertiary environment and excellent facilities across a range of subjects.
"Getting them to the tertiary campus is huge. They get to choose their own workshops, and get a feel for what it's like to be in tertiary education. They really have to take ownership of their education," Grant says.
The event will inspire future generations by providing high-quality hands-on workshops from twenty-six different presenters who aim to challenge, excite and spark ideas.
Students can explore molecular gastronomy through ice cream science with Ara Cookery tutor Stephen Le Corre or go into a Dragon's Den type competition with Logan Williams, finalist of the 2018 Young New Zealander of the Year.
"We're trying to give students a lot of different things to try out in an experiential way," Grant says.
For Ara, the partnership is an ideal collaboration. "Ara is working with the Ideas Festival to give South Canterbury's young people an opportunity to think creatively about their futures, through participation in a series of STEAM related activities," Ara Manager of Regional Stakeholder Engagement - South Canterbury, Sabra Moore, says.
Aoraki Development, Alpine Energy, The Southern Trust and The Community Trust of Mid and South Canterbury are the other event partners of the festival.
Entry to the Ideas Festival is $50 for students and tickets can be purchased via Eventbrite. The festival is a not-for-profit event, organised by the educational charity Ingenious Educational Xperiences​ (IEX).
For community members, businesses and youth who want to get a sense of what the festival is about, there is a community event on Thursday 27 September, 5.30pm-7pm, which will showcase some of the workshops including Science Thrills, Robotix and gory SFX make up.
"It's a way to say thankyou to our sponsors, partners, parents, business owners, and older youth. But also it's to provide a taster of what the festival is going to be like- in my mind it's like a weird science circus!" Grant says.