Fashion students proudly present own collections at PITCH
Bursting with creativity 44 students from Ara's Bachelor of Design (Fashion Technology and Design) can't wait to unveil their spectacular garments in all their glory at the annual runway show, PITCH, on Saturday 24 November in the Whareora, Ara City Campus Christchurch.
Future designers pitch themselves to industry
The glitz and glamour of PITCH provides an amazing opportunity for students to establish their name in a highly competitive industry, especially as fashion industry insiders are often in the audience.
The highlight of the evening is always the final year students' collections that represent all they have learnt in their three-year degree, and four months of intense dedication- designing and constructing up to 15 outfits each, sourcing models, choreographing the runway and coordinating a photoshoot.
This year the final year students had more freedom in the direction of their final project, and for the first time their participation in PITCH was optional.
Nicola Chrisp, Programme Leader of Fashion says, "The third year's final project has been student driven. If they've wanted to show a short film or have an exhibition we've been open to that."
Over the next two weeks it's not just the final year students who will be feeling the pressure. At PITCH, the first year students will show two outfits each and the second year students will show six outfits based on their class modules including tailoring, draping, and avant-garde.
New Zealand designer Jason Lingard will be attending the event as a guest speaker. Over the last three years, he has helped develop the talent of Ara students by taking them on as interns.
Lingard studied fashion at Massey University and at Auckland University of Technology (AUT), and went on to teach fashion design at AUT. Lingard launched his self-titled clothing label in 2014 at New Zealand Fashion Week, and now his clothing line is stocked in 21 retailers throughout New Zealand.
Collaboration at PITCH for the first time
United by their love of black and white fashion third years Brie Koolen and Kristie McCormack are breaking new ground as the first students to work collaboratively for PITCH.
"The tutors warned us at the start, 'you might start as friends but you may not end as friends'… but so far it's been really good! We've always worked quite closely together and we've found we have very similar design aesthetics," Koolen says.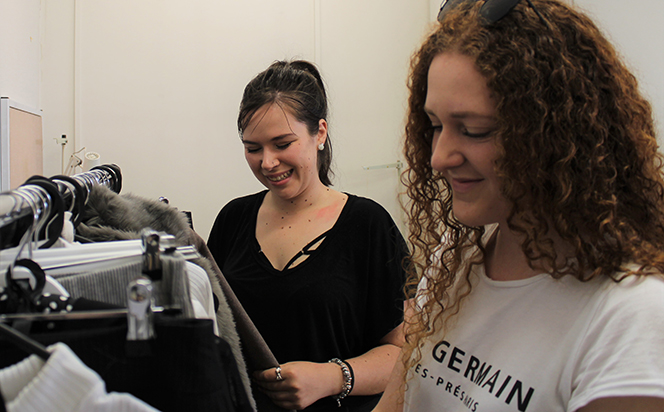 Kristie McCormack and Brie Koolen look through their collection
The classmates describe their collection as "a happy medium," between McCormack's penchant for evening wear and Koolen's love of daytime street wear.
McCormack says the proposal for their final collection was inspired by the teddy-boys sub-culture and their clothing choices. "In Britain in the 1950's the teddy-boys were the pre-cursor to the mods and rockers, they were the naughty kids as such and they took what the upper class wore: tailored suits and things, and made it more casual so they couldn't wear it anymore."
Koolen took on the task of designing an effective business plan, and leading branding and creation of collateral including business cards and branded lapel pins.
The pair chose to label their brand Achro, short for achromatic, and their collection is true to its name, consisting of seventy pieces based on a colour palette of black, white and grey, with little pops of pink and navy inspired by the brightly coloured socks teddy-boys often wore.
"It's a winter collection so there's lots of coats. We've used leathers, cottons, linens, lots of wools – higher quality fabrics. A lot of our women's clothing is based on menswear, but we have some feminine aspects too like a few bralettes, bandeaus and dresses," McCormack says.
Koolen and McCormack are both working next year but hope that they can continue progressing Achro Clothing on the side. They have an Instagram account for their label and have plans to launch a website soon.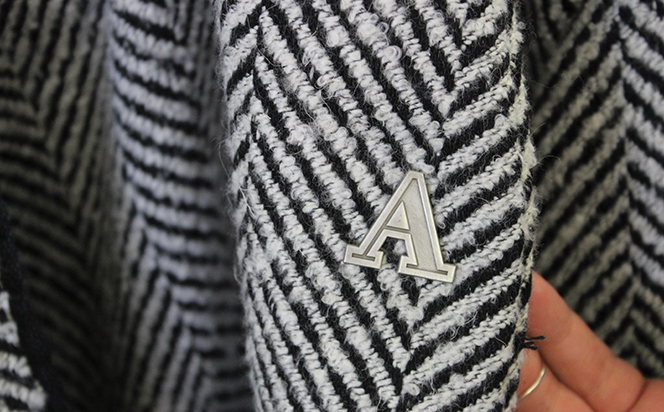 An Achro lapel pin