Engineering student wins first inaugural Summer Sprint programme
An Ara Diploma in Mechanical Engineering student Sukhdeep Singh has just had the "greatest experience ever" participating in and winning Ministry of Awesome's (MOA) Summer Sprint programme which ran from 11-15 February.
The purpose of the Summer Sprint programme is to assist students who have a clever entrepreneurial idea, whether it's for a product, social enterprise, or a business, to turn that idea into reality with the support of the best and brightest minds from the Christchurch business world.
23 students applied to be a part Summer Sprint and then an interview process was used to narrow this down to eight finalists who participated in the week-long programme.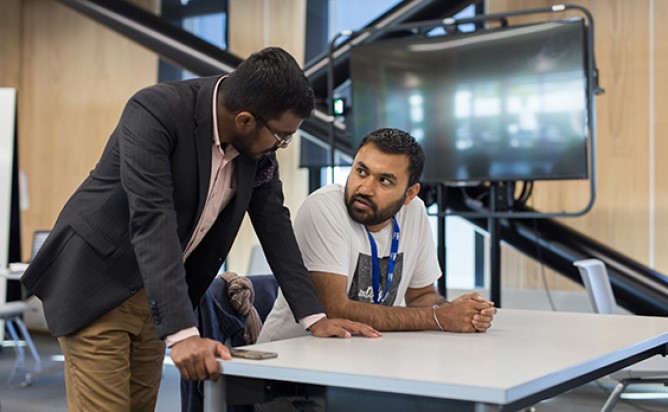 Summer Sprint winner Sukhdeep Singh being mentored by Ministry of Awesome's Jacob Varghese
On Tuesday 19 February, the top six students from the group were selected to present their innovative ideas to a judging panel and an audience of business leaders, with Singh taking out first prize and 'Most Innovative Solution'.
Singh takes out the competition
Singh says his project idea came about while he was working as a Security Officer for Christchurch Hospital. He realised that when staff and patients put on medical gloves their bare hands could potentially contaminate the gloves during application.
"My concept product is a machine which fits the user with a sterilised hospital glove, therefore taking away the need for them to apply the gloves themselves," Singh says.
For his bright idea Singh has been awarded two $500 scholarships for any Ara course, an MYOB software essentials package and continued support through 6 months of hot-desking in the MOA offices, located in Kahukura Building at Ara's City Campus.
"My hopes are really high for what I can do now," he says.
With his concept now under patent application, Singh pitched at the 'Pitch & Pizza Evening' held by Canterbury Angels, a local start up investment group last week.
Social enterprise idea wins 'Best Pitch'
Abby Dickinson, who studies at the New Zealand Broadcasting School, took out the 'Best Pitch Award' for her compelling presentation on a social enterprise for menstrual products. Dickinson proposes that for every box of menstrual products sold, the social enterprise would donate one identical box to a New Zealand woman in need, thereby attempting to tackle the social issue of period poverty.
Ministry of Awesome supports student innovators
Throughout Summer Sprint, the eight participants were supported by 24 mentors from a range of industries; including the three business leaders who sat on the judging panel: Richard Sandford, General Manager of Christchurch NZ, Kaila Colbin Chairperson, MOA and CEO of BOMA and Gerald Carter, Co-Founder of XStart Accelerator. Each participant was also given a $600 grant from the Ara Foundation to cover any programme related expenses.
Jacob Varghese, MOA Startup Activator said, "Summer Sprint is an awesome opportunity for Ara students to try kickstart their idea, and with our support, potentially turn it into a viable business."
As part of MOA's partnership with Ara, MOA will continue to hold events such as Summer Sprint to support and mentor budding student entrepreneurs.
If any student is interested in connecting with MOA and wants support with their business ideas email: jacob@ministryofawesome.com