Employment Advisor at Ara tackles learning Samoan language
Even before Samoan language week, Selina Faimalo, who works at Ara as an Employment Advisor, was tackling the challenge of learning the language – at Ara.
Selina, who was born in the UK and lived there for most of her life (and has the accent to prove it), has New Zealand-Samoan heritage from both parents. Once she and her sister Alex made plans to move back to New Zealand – following a trail blazed by their mother Lana (a former Ara colleague), Selina was keen to find out more about Pacific languages and culture. She also came to appreciate how having Samoan language skills would expedite communication with her grandparents, also in New Zealand.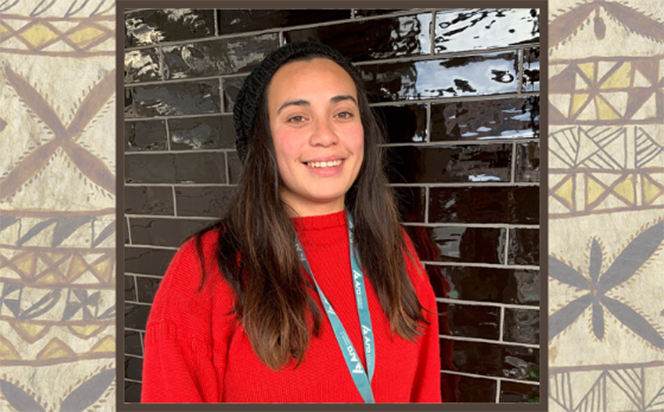 Selina admits that her grandmother asked her to call around, rather than call on the phone. "She always told me not to call her because she can't understand my speech over the phone," she says ruefully, although she certainly appreciated the resulting face-to-face time.
But during lock-down, Selina's Samoan study was restricted to online study and connection on Zoom during her evening classes. She has noticed one upside to remote study – something familiar to many who have been working or studying from home - "I can do it in my pajamas and that's been really cool." But now that Level Two conditions have permitted the return of family visitations, Selina is motivated to once again "visit my grandparents and practice my Samoan with them."
Her Samoan lessons aren't the only thing Selina's involved in. Last year, a group of friends who were all concerned about the environment and passionate about supporting local crafts got together to create 'The Conscious Club', a community dedicated to "events, workshops and more to educate people and communities through storytelling, creativity and fun", as the group's website has it.
"We all sold stuff online on Instagram, and we're all passionate about the environment and just wanted to create change; putting creativity to use to create sustainable and ethical events - saving the world while having fun!" says Selina, who admits that lock-down conditions put a certain crimp on the group's face-to-face events.
"Just before lockdown we had a beach cleanup at Sumner, and then we worked with the City Mission, to help with all the clothes that they get, that end up going to landfill. So we did an event where the City Mission gave us all of their extra clothes donations, and we invited followers, our online customers and friends to come to a space at Ara, and in the end I think 100 bags of clothes were 'saved' from landfill."
Selina has also been very active recently within her normal niche at Ara – advising students and graduates about their career, and helping them put their best foot forward in the job market.
"I think that now after COVID, this sort of service and help will be even more important than it was before. It's only our first week back at work, and it's been really busy!"
If you'd like to help support the Conscious Club, follow them on Facebook and visit.