Court Theatre production a triple tr
e
at for
Ara
students
Ara students and graduates have revelled

in

starring roles

in the Court Theatre's

latest

production, grateful

for the

special relationship between their

place of study

and the much-loved local stage.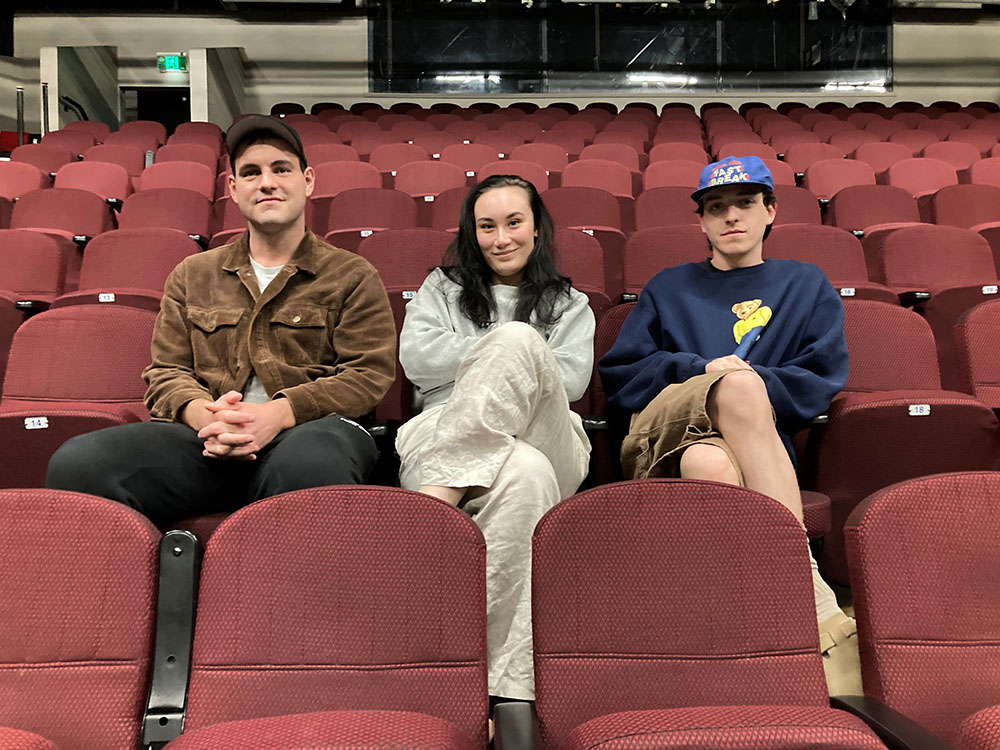 (L-R) Music Arts graduate Mitchell Thomas, NASDA student Lily Bourne and NASDA graduate Finley Hughes are grateful for Court Theatre roles.
For current NASDA student, Lily Bourne, recent graduate Finley Hughes and Music and Arts graduate Mitchell Thomas, Flagons and Foxtrots ticked all their boxes: starring in a production of a New Zealand work, being directed by a respected professional and appearing on a loved local stage.
Finley Hughes, who played lead Archie Moore says it was the stuff of dreams.
"For me I always wanted to work here when I was at NASDA. I wanted to do a New Zealand play and that's exactly what we've done so I feel pretty lucky," he says.
Described as a nostalgic homegrown comedy, Flagons and Foxtrots is set in the Saturday night dance hall scene of the 1960s.
Playing the lead role of Rita Vincent was not only Bourne's professional debut, it doubled as third year coursework.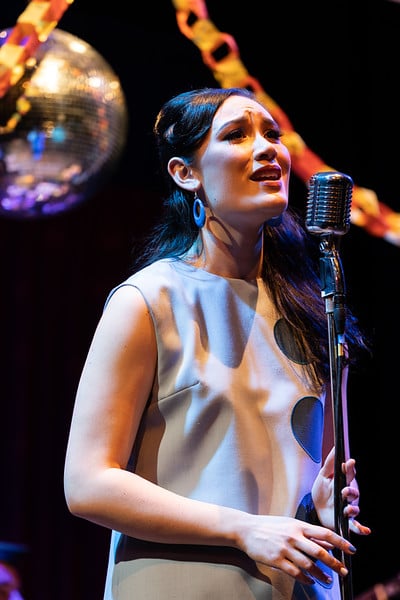 Lily Bourne in action at the Court Theatre. Photo: Charlie Rose Creative, The Court Theatre 2022
"I remember writing a report in the first month of rehearsal saying I felt like I learnt a years' worth of skills in that short time!" she laughs.
"Before I started at NASDA in 2020, I saw my first play here, Streetcar Named Desire.
"Now I know a lot of the people who were in that, and I've worked alongside them. It's very surreal," Bourne says.
Now a couple of years into his career, Hughes remembers the feelings of hope The Court Theatre stirred early on.
"We went to all the shows and this career suddenly became obtainable, reachable," he reflects. "You are sitting watching people get paid to act in one of the biggest theatre companies in the country."
Musician Mitchell Thomas, who was centre stage playing drums in the show, agrees that seeing Ara Music Arts tutors working, helped to make a future in the arts seem possible.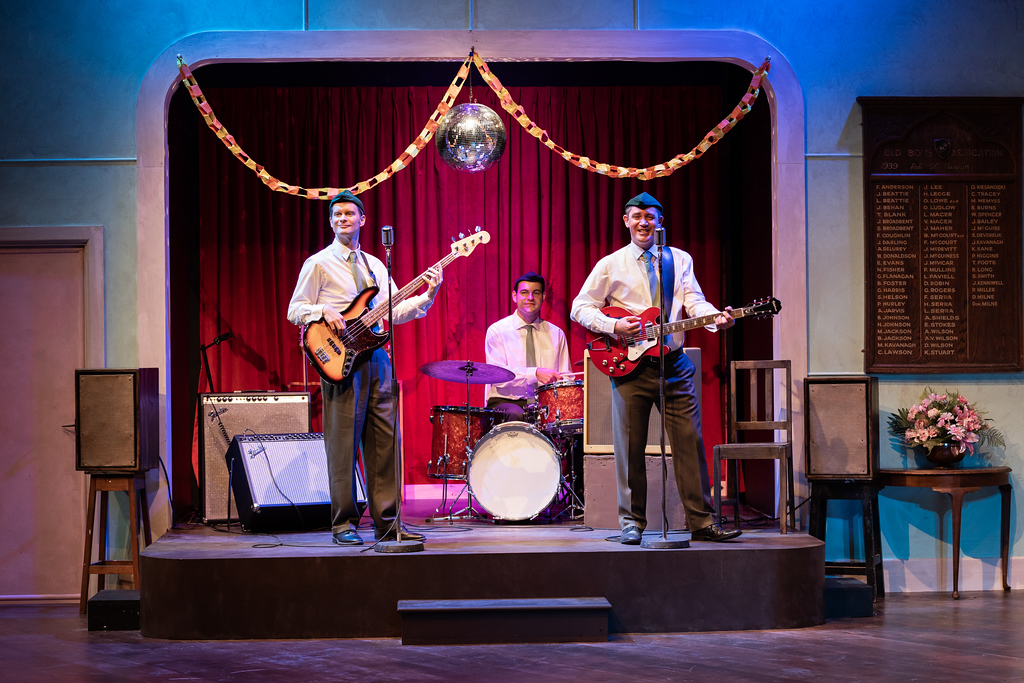 Drummer Mitchell Thomas centre stage. Photo: Charlie Rose Creative, The Court Theatre 2022
"We get the chance to see our tutors working and it also creates opportunities for us to join in professionally too," Thomas says. "If they need a slot filled whether it be a theatre show or a corporate gig or a festival if, say, a drummer wasn't available - when I was at the school, I was afforded those opportunities."
Head of Ara -Te Pukenga Creative Industries, Hazel Barrer agrees the benefits of such active and connected staff are real.
"All of our staff are still heavily engaged in industry, and their connections are passed on to our learners," Barrer says.
"We're so lucky to have huge names from the theatre industry on our teaching team."
For her part, the Court Theatre's Artistic Director Alison Walls says it's rewarding working with NASDA students and recent graduates.
"It's the natural next step in their training to work in the professional setting, and you can learn so much from working with different directors and more experienced actors."
"For us, it means there is a pool of young, trained talent to draw on for a variety of roles. More importantly, the relationship helps the industry flourish – we need always to be creating opportunities and developing emerging talent," Walls says.
"I know both newer performers and veteran theatre makers find the collaboration deeply rewarding."
Bourne says the Flagons and Foxtrots opportunity simply wouldn't have come to her if she hadn't met the director Kathleen Burns at NASDA.
"Kathleen visited us while we were working on The Wedding Singer in our second-year last year which was a lot of fun," she says. "I wouldn't be here if I didn't have the opportunity to work with professional creatives like her while at NASDA."
Hughes describes working with Burns as "the dream situation".
"I've learnt a lot through this show, and I've been lucky enough to work with a lot of people I admired during drama school. Now it's given me the confidence to think I can work with other people beyond here too," he says.
Bourne feels as though she's just starting to 'chip away at the iceberg'.
"But it feels possible now. So, I'm very fortunate to be performing and I'm not even out yet. It's made me feel the doors are open and the sky's the limit," she says.
Bourne is now looking forward to the NASDA season of Grease being staged at the Court (starting October 28) and says the annual collaboration is another example of how the relationship fosters growth and partnership.
"I've been involved in the past two coming up three of those just working my way through the ranks as a crew member, then being in the ensemble for last year and now I get to be a lead in this year's one," she says.
"I can't wait."