Celebrating success: Ara students receive scholarship awards
"If you're given an opportunity you should take it! That is one thing that I learned at my time at Ara. Say yes to things and worry about the details later."
These are the words from Claudia Hillyer, NZ Certificate in Communications Media student and recipient of an Ara Inspire scholarship.
"Since I left school, I wanted to do my very best to achieve things in my studies and academically. I'm so much more motivated to strive for opportunities like scholarships than I was at high school," she said.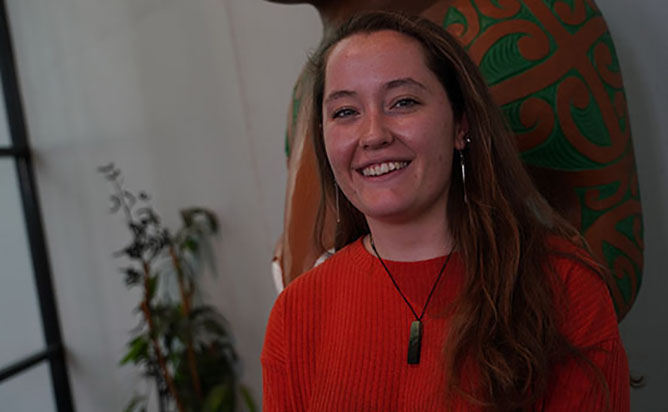 Claudia Hillyer is one of six Ara inspire scholarship recipients.
Last night at the annual Ara Scholarship Awards over 80 students received scholarships in eight different categories.
Each category has different eligibility requirements and scholarships are granted for hardship, disability, Māori, Pasifika, Women in STEM and trades, skills shortages, inspiration/leadership, and lifelong learning.
Ara received close to 200 applications for scholarships in total from 139 applicants. Additional scholarships will be made available throughout the year.
The monetary awards range between $2,500 and $5,000 and are going towards the student's tuition fees to assist those financially who have already used or are not eligible for the first year fees-free scheme.
Hillyer, who is doing her second course at Ara after successfully graduating in a New Zealand Certificate in Te Reo Māori, says she felt excited and humbled to receive the scholarship.
"It is quite a big deal and quite a big accomplishment for myself. I was really happy and I was looking forward to telling my family."
In her personal statement for the scholarship application she stated that she was interested in learning more about communications media and its role in indigenous societies and how it could be developed.
"Since I started my course I have been getting more and more interested in magazine editing and ways to document indigenous people's stories. Learning about different cultures of the world we are living in and recording them so we don't lose them that's really important to me," Hillyer said.
Fellow scholarship receiver Becky Malone agrees with Hillyer that the application process is easy, straight forward and the financial payoff is 'absolutely worth it'.
"You don't realise how much you'll have to pay off until you get to the end of your studies and start working. By the time I'm finished I will have a huge student loan and compared to that the scholarship is minimal. But even having this little bit of help towards paying off the loan will mean a lot when I start working and make it a little less daunting," Malone said.
Malone started studying a Bachelor in Nursing/Master of Health Science Professional Practice (Nursing) as a double degree at Ara and UC this year to further her career and education.
Because she is a postgraduate student and doesn't qualify for student allowance she decided to apply for a scholarship to make studying a little more financially viable.
"With studying full time, working part time as a First Aid Tutor and volunteering as an Ambulance Officer things get pretty hectic. This scholarship goes above the financial support and also feels like a signal of appreciation and support for my commitment to health, both in what I have already achieved, and for my plans in the many years ahead."
"Nursing has changed dramatically in responsibilities and training over the years and I plan to one day be at the forefront of the changing face of the profession, pushing the boundaries of the nursing role," Malone said.
Here are some impressions from the Ara Scholarship Awards Night 2019