Canterbury team wins Young Enterprise Scheme 2019
Equipped with an idea born on a sports field sideline, a group of Cashmere High School students invented a product which won them Company of the Year at the Young Enterprise Scheme (YES) national competition.
By combining two sporting necessities: strapping tape and ice packs, the students have developed an instant ice-cold sports strapping tape which they say will enable athletes to 'rest, recover and return faster than ever before'.
Their company, Pivot, was awarded $3000, as well as a $5000 scholarship for each student to put towards study through Massey University Business School.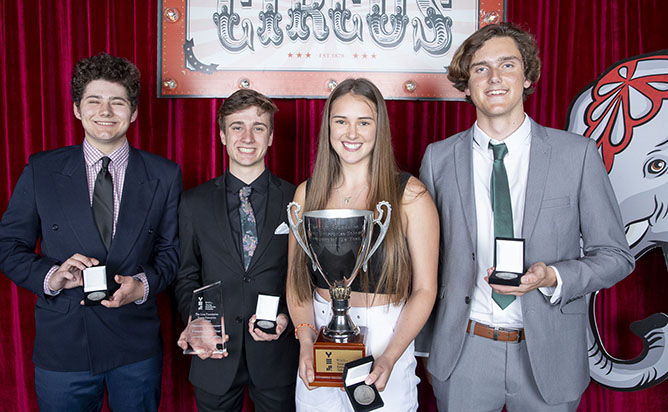 The five Christchurch secondary school students first wowed judges in October, coming second in the YES regional finals. On Wednesday night they attended the national finals at TSB Arena, Wellington and once again impressed with their innovation and entrepreneurship, beating out twenty other regional champions in a dragon's den style set-up.
"Our idea stemmed from a problem we had all faced," said Wayo White, Pivot Marketing Manager. "United by our love of sport we recognised an inconvenience that had plagued all of us at different times: ice packs and strapping tape just don't mix well and no one likes sitting on the sidelines watching their team play while they're waiting on an ice pack to make a difference."
With this idea in mind the students approached their school's chemistry department.
"We wanted to create a strapping tape with a chemical embedded within that goes cold with the application of water. We wanted our product to be something you chose to activate, and water was a no brainer- every person at a sports event has a water bottle."
Their product combines the support of strapping tape with the cooling of an ice pack, allowing the user to recover faster while avoiding the immobility caused by an ice pack.
"I'm really proud to see my amazing team be rewarded for their time, effort and perseverance; and honestly it still hasn't set in. Goes to show with a passion for your project and a can-do attitude, you can make anything happen."
Young Enterprise Scheme - Canterbury Regional Coordinator, Idoia Alday Gonzalez said the purpose of the competition is all in the name.
"It's about the power of saying YES – say YES to curiosity; say YES to creativity; say YES to innovation; say YES to big ideas; say YES to adventure. Cashmere High School's team, Pivot, has done exactly that throughout their business journey this year and I couldn't be prouder."
"I have been extremely humbled to see the Canterbury Community come together to support our students. The mentoring and advice the students receive from professionals gives them exposure to knowledge that seasoned individuals and businesses acquire only throughout the course of many years of experience. We are building an amazing whanau in the region. Together we are building up the next generation of entrepreneurs, of problem solvers – the next generation of leaders."
Ara is a regional partner of the The Lion Foundation Young Enterprise Scheme. The programme aligns closely with Ara's approach of experiential, real world learning, which helps to develop problem solving, leadership and communication skills.
This is the 38th year that YES has been held, and the third time that Canterbury has won the national competition. In 2019 more than 4000 students took part in YES, setting up over 1000 companies.
YES Canterbury is supported by the following sponsors: Rotary Club of Christchurch Sunrise, Baldasso Cortese Noordanus, E3 Accountants, Powell Fenwick, Boma NZ, Chartered Accountants Australia and New Zealand, and Ara Institute of Canterbury.