Canadian exchange for Maori Language students
Two Ara Māori language students are off to Canada next week to immerse themselves in Canada's indigenous culture and language on a two-week exchange to Camosun College (15-29 September).
Shanan Piripi and Bex Tamati are both mature students in their final year of the Bachelor of Māori Language and Indigenous Studies (Te Ohoka). Both of them hope to gain through their research some insights and data to draw parallels and comparisons for their respective final year projects.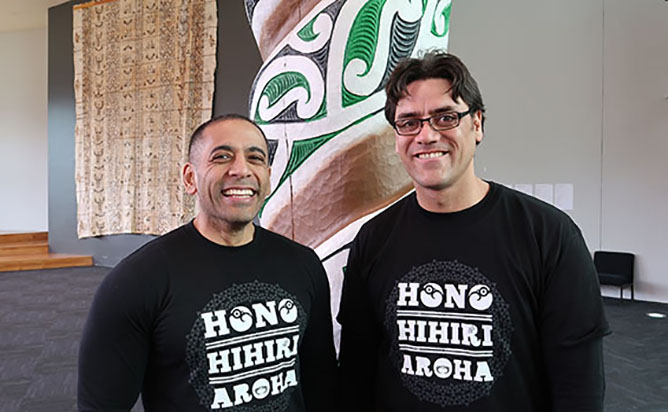 Heperi Harris (Manager of Te Puna Wānaka) and student Shanan Piripi at Te Puna Wānaka during Māori Language Week 2019.
Piripi is of Māori descent. He is from Whangaruru in the far North. His iwi is Ngāti Wai and his hapū is Te Uri o Hikihiki.
His research explores the use of indigenous cultural narratives in teaching. Tamati, who attends Ara part-time, while working as a teacher at Te Wānanga o Aotearoa, is interested in engagement retention of second language learners.
"My capstone project is on the benefits of Pūrākau -cultural narratives in education and using it as a pedagogy for teaching. So I'll be researching the thoughts of people about those stories and how they utilise them in education or other aspects of their life," says Piripi.
"Some of the people I referenced in my proposal are First Nation's people from Canada and they use a lot of narratives to transfer knowledge. I thought it would be cool to look at a culture that has experienced some of the same things as Māori and see if there are similarities or differences to research further."
Piripi says that throughout his life he only ever learnt fragments of Te Reo, a little bit at primary school and at high school but it was a repetition of the same things like colours and counting to 10.
"But then I joined the kapa haka and a lot of my love for Te Reo started to develop from there. I was around a lot of good speakers of Te Reo as a child but they didn't see it as beneficial for me to learn so it wasn't passed on. Studying at Ara and being taught all the structures has helped me immensely. I can understand a lot of what is being said now so that's been a blessing."
Heperi Harris, Manager of Te Puna Wanaka in the Department of Humanities at Ara, says going to Canada and experiencing another indigenous culture is going to be invaluable to the students.
"It's about getting a feeling for another culture, language and environment and learning from them but also sharing what we do here."
The timing of the trip is based around Camosun's cultural camp – a two-day event about engaging with the community and environment, including learning about local indigenous medicine and healing practices, experiencing a traditional sweating lodge and harvesting local food.
"It's going to be an adventure. I'm kind of going in unaware of what to expected and I like that. I like the not knowing," says Piripi.
Next week is Camosun's first week back after a break, so Piripi and Tamati will attend the orientation as well as a welcome event for the Ara students.
The students will be hosted by Eyēʔ Sqȃ'lewen- The Centre for Indigenous Education and Community Connections at Camosun College and will spend time at Na'tsa'maht- a traditional house or gathering place for the Camosun campus and local communities which forms a similar role to Te Puna Wānaka at Ara.
Camosun College serves the communities of southern Vancouver Island and the South Gulf Islands that are located on the traditional territories of various indigenous groups.
This visit is due to the reciprocal partnership established between Ara and Camosun in 2017, which has since resulted in cultural exchanges between the two institutes. Most recently three students from Camosun visited Ara earlier this year.