Best of both worlds for dual enrolment students
Last Friday, Ara's dual enrolment students from the Madras Street and Woolston campus came together to celebrate their achievements over the past year.
Close to 200 students from the Enterprise & Digital Innovation, Humanities, Engineering & Architecture, Hospitality & Service Industries and Trades departments received certificates for completing their one-year course at Ara. Awards were also given to one Top Performing and one Highly Committed student in each programme.
The Year 11, 12 and 13 high school students and their proud parents, whānau, caregivers and school staff were welcomed into Te Puna Wanaka and by Ara's Student Support Manager, Diana Law.
"Today we are celebrating you, the students and the families who have been fantastically supportive along the way."
The Head of Trades, Dennis Taylor, talked to the students about three key learnings they should take with them into their future: listen carefully, be bold and make the right decision for yourself.
He tested these key messages right away by getting the students to decide on how long his speech should be. He asked them to cover their eyes, counted from 30seconds to 30 minutes and asked the students to stand up at a length they considered acceptable for a speech.
One bold student was standing at 30 seconds while the majority opted for around two minutes.
Taylor ended his speech with a thank you.
"Well done to all of you. Thank you for choosing Ara and making the right decision in the first place and coming into this programme. We are confident that you have achieved not only the course goals but also your personal goals. We are looking forward to welcoming you back."
Three courageous students also got up and talked in front of their peers about their experience.
Maddie Bennett, who did a New Zealand Certificate in Cookery Level 3, said she and her classmates came to Ara at the beginning of the year not knowing anything about cookery but they have all come a long way and gained many new the skills.
"If you would have asked any of us last year how to make any kind of stock, you would have got the answer no. But now we have the skills to make all kind of dishes from stocks to biscuits and all the fancy dishes that I can't pronounce.
"Along the way we made a few mistakes such as very dark chicken stock, deflated sponge cake because we put way too much sugar in it. We burnt a few things in one case so severely that we had to throw out the pot. But through all of these up and downs, through sandwiches to chutneys we bonded and created many friendships. We also went out of our comfort zones with many of us continuing our cookery career next year."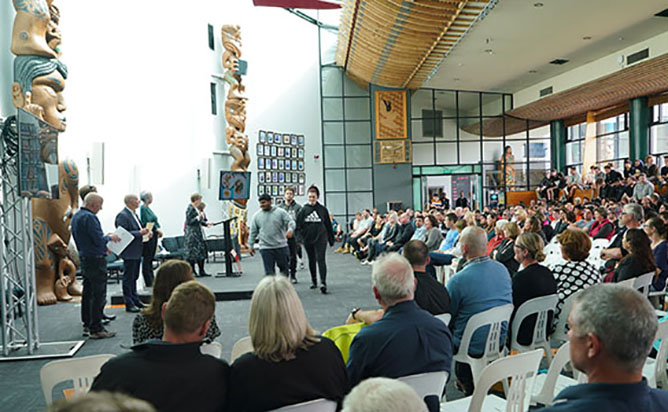 Proud parents, whānau, caregivers and school staff watched the students receive their certificates.
Dual Enrolment programmes are a great way to earn NCEA credits and get a feel for tertiary study, while students are still at school. By gaining industry-based skills at Ara, they can move ahead faster into higher-level study, an apprenticeship or employment. For the duration of the school year students spend one to two days per week at Ara and the rest of the week at school.
The dual enrolment students in South Canterbury are celebrating their achievements this Friday, 1 November 2019.