Be bold and a little outrageous
Pencil skirts, cardigan sweaters and colour blocking meeting clashing patterns, zips and safety pins is what provided inspiration for Bethany Leigh's unique FORM collection.
Pencil skirts, cardigan sweaters and colour blocking meeting clashing patterns, zips and safety pins is what provided inspiration for Bethany Leigh's unique FORM collection.
Leigh, a final year Fashion Design student was a little stunned when she received her design brief at the end of her work placement at Robyn Reynolds to start designing her own ten-piece collection for this year's FORM event. But she stepped up to the challenge.
"My assignment was to create a collection with the theme '1950s office wear meets 2018 Punk'. It was hard to find a meeting point for these two completely different genres and to blend them together to create garments that people would buy."
All third year students had around six months' time to design the collection, create a workbook, make the patterns on screen and on paper and finally construct the garments.
"This collection is not what I would usually create but it does incorporate elements that I like for example working with different fabrics and playing with colours.
"I tried to show the tension between the rough edginess of punk genre but also the finesse and very elegant look of office wear in the 50s. So I've clashed these two styles together to create a cohesive collection. That's also the reason why my collection is called Converge. It is converging two different concepts together to create a truly unique result," says Leigh.
Her favourite item is a dress that incorporates three different fabrics, two patterns and a prominent front zip to represent the punk side of the theme.
"This dress is quite different to what you see in trends and fashion at the moment. It is my favourite because of the clashes in the patterns and the contrast it showcases."
Leigh, who is dreaming about owning her own little market stall one day to sell her unique clothes, is looking forward to exhibiting her clothes alongside the other students at Frobisher Interiors.
"All of our collections are very diverse. Some students went to bridal places so there is bridal wear, which is a lot of hand stitching. One of the girls went to Karen Walker who asked her to design something editorial, different and big so she came up with outfits of bulky denim. You will also get to see a collection entirely made out of linen, floral pieces and much more."
Striking a pose at FORM 2019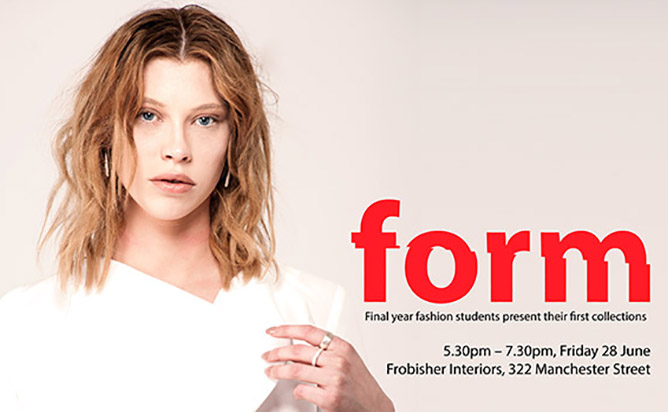 FORM is an annual event to showcase the students' first major project which follows a four week work placement in the industry. Each student approaches an industry fashion brand and once the internship is completed they are given a design brief from their mentor.
This tasks asks students to design a 10 piece collection with a theme chosen by the industry professional. The entire process leads the students from research and design, through to pattern making and garment construction.
Once the garments are produced, the next step is to collaborate with models, makeup artists, hair stylists, photographers and graphic designers to create a look book that showcases their work.
The final stage to the presentation is the FORM exhibition which is held off site this year and in partnership with Frobisher Interiors.
Ara's Programme Leader for Fashion Technology and Design, Nathan Ingram, says this way of showcasing the students work lets the public get more involved with the final products.
"FORM provides a platform for our students to present their work in an exhibition style setting. Unlike traditional catwalk presentations, this setting invites the public to see the garments in close proximity and allows them to speak directly to the student designers about their concepts, processes and final outcomes within their individual work.
"This is also a chance for friends and family to come and celebrate the students' achievements and the outcomes of their hard work. FORM 2019 also provides an opportunity to sell the work to the public and to show their abilities to potential employers."