Ara Trades Dual Enrolment Students Take Their Craft To A New Level
While Ara definitely teaches Art and Design, it's not every day that Trades students get the opportunity to decorate the walls of their workspace.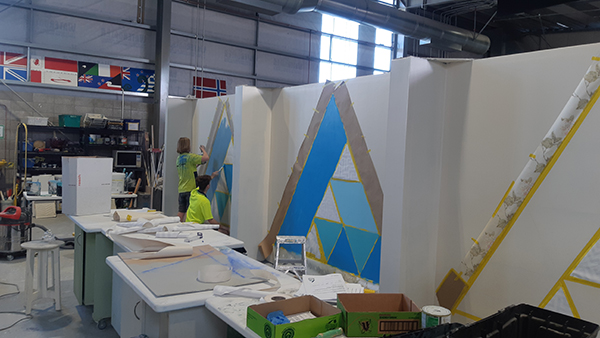 During the last week of Term Two, one class of Ara's Level 2 Introduction to Construction Dual Enrolment students were undertaking the 'painting and decorating' unit. Normally during this time the learners would be busy coming to grips with the use of painting tools and equipment, basic residential painting and plan reading. The other units that form part of the programme cover carpentry, joinery, civil construction and drawing.
However, this particular week – the one leading into the holidays - the group had thinned out somewhat. Tutor Tim Robinson says "The last few days of term can be a bit distracting for some Dual Enrolment learners and parents sometimes remove a student for an early holiday, so 100% attendance in these weeks can't be guaranteed. This week I thought, rather than pressing on with the assessed work and having to catch people up next term, I'd do something else with those attending; something they could use as evidence towards their units that would be both engaging and productive."
What Tim came up with was getting his learners to add meticulously-rendered Ara logos to the wall of their workspace.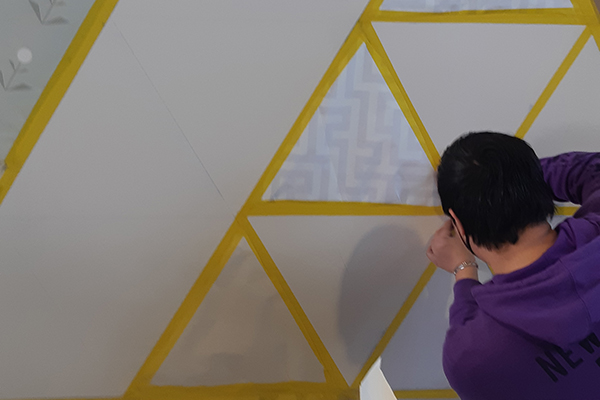 He comments "As we had some tinted colours lying around, I suggested we tidy our space up, mark and paint the logos on each section of wall, and leave it looking awesome for the new Level 3 class due to start at the beginning of next term.
During the course of the activity, the students followed a plan, used it to draw out a design, and then used a range of painting and decorating equipment. Tim sums it up as "a pretty awesome looking result with paint and colour."
Because the Ara logo is based on an equilateral triangle, which can easily be drawn with a compass, Tim reckons that his learners were also exposed – "perhaps subliminally" – to some of the principles of geometry, via a completely painless activity.
On the Thursday, the group had prepared the walls with electric sanders, then, using strip of plastering tape, pins and pencils as improvised compasses, the class marked out equilateral triangles with 2.2m sides and bases 300mm off the ground. The students then divided each side into four equal parts and snapped lines with chalk lines to create the smaller triangles. They then used masking tape and wallpaper ends to cover off everything that wasn't to be painted and then followed Tim's drawing to paint their selection of colours in the right arrangement for the logo. The final colours were applied with rollers.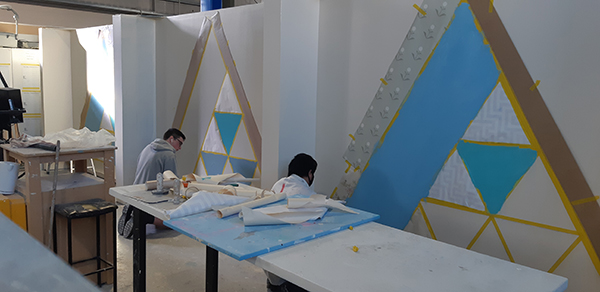 Tim says "I haven't seen a Level 2 class so engaged in a while. One student, who intends to go into design, took charge of the colour scheme and directed the others into their plan. The students kept working into their break times and when the masking tape came off a few had their phones out videoing the emerging design. Throughout the day I kept having to stop myself from "helping" as I realized each time that they had this – after the initial instruction I pretty much left them to it."