Ara student's trash-based artwork wins 'Speaking 4 the Planet' competition
Pollution is a huge global issue but unfortunately most of the pollution in our oceans is invisible.
While it may not be readily seen, there are billions of tons of 'microplastics' floating in our seas and washing up on our shores.
This environmental problem is close to the heart of Ara student Cailin Richardson Hall and was the inspiration behind her artwork 'The ocean has become one big trash can!', which recently won the Open category at Sustainable Ōtautahi's 'Speaking 4 the Planet' competition.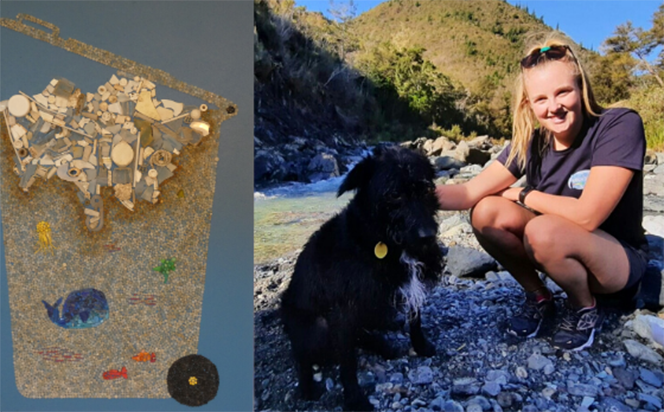 Designed to complement 'World Environment Day' on June the 5th, 'Speaking 4 the Planet' (S4P) is a student-focused competition featuring entries in public speaking, spoken word and visual arts, all designed to give students a chance to showcase their ideas for a more sustainable world.
Cailin, who is in the final year of her Sustainability and Outdoor Education degree at Ara, says, "This year in my course I had to complete a 'sustainability action project' to make a change in the community. I went to an Algalita South Pacific volunteer meet up at Sumner beach where they were looking at micro plastics in the sand. Unfortunately, these tiny pieces of plastic are affecting ecosystems and killing sea creatures which eat the plastic, along with the toxins contained in them."
In her artwork which Cailin donated to Algalita South Pacific, she incorporated plastics from the charity's beach collections, to represent the idea that we only see the tip of the iceberg, although there is much more below the surface.
"I haven't done an art project since I was in high school, so it was quite neat to get creative again and be recognised for it…especially as it took 38 hours of sorting microplastics and sticking them with tweezers!", Cailin says with a laugh.
Cailin's artwork is due to be on display in the Christchurch Botanic Gardens in the near future.
"When I went into the degree, I was more interested about the outdoor-education aspect but now that I am nearing the end, I'm far more passionate about the sustainability aspect. I love that I was able to be a sea kayak guide over the summer holiday and that I'm able to finish the degree with skills that I can not only transfer into the outdoor industry, but also business, education and conservation."
Ara Institute of Canterbury Ltd was a proud sponsor of the 2020 'Speaking 4 the Planet' competition, providing four $100 prizes. Find out more about this year's winning entries.