Ara Pleased To Continue Support Of Newly-funded Pūhoro STEM Academy
On the 6th of May, Associate Education Minister Kelvin Davis announced a new partnership with, and financial support of, the Pūhoro STEM Academy.
The Minister said during a speech to Pūhoro staff and students at Massey University in Palmerston North that the programme will receive $2.97 million of government funding over three years.
Launched in 2016, Pūhoro is a Massey University-designed, three-phase course that helps Māori high school students through NCEA STEM subjects (science, technology, engineering, maths) and on to tertiary institutions and work placements. Students start in Year 11 and are supported via alternating 1hr per week mentoring and tutoring sessions, a full-day wānanga (seminar) each term, and gain access to university laboratories and teaching.
Originally developed in response to the lower engagement of Māori in STEM-related career pathways nationally, the programme seeks to address this imbalance, and now operates in 31 schools which, in 2021, reaches more than 1000 students.
The Pūhoro program is supported by Ara Institute of Canterbury in the Canterbury region, with the Institute hosting the programmes kaihautū (mentors) during their outreach to schools in the area. Ruby-Isabella Reedy-Land and Annaleise Faint are currently occupying desks at the Ara Madras street campus and are kaihautū for a growing number of schools in the region.
"Currently Māori only make up about 2% of people in STEM careers. In the past, a lot of Māori didn't really pursue further education; and that was kind of normalized. I think a lot of whānau just kind of carried on doing what their parents were doing" says Annaleise.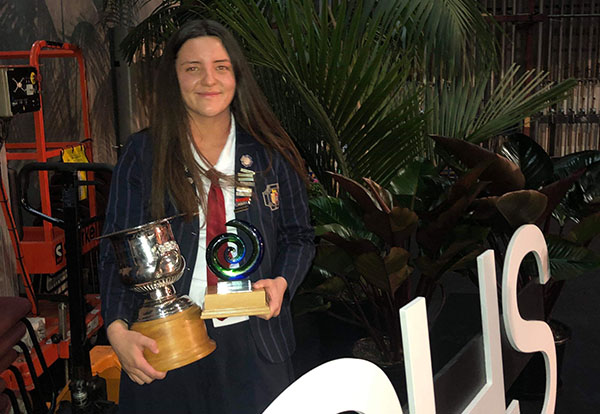 Annaleise received the Sports and Academic cup and Proxime Accessit award
She sums up her job by saying it's designed to keep students "on pathways until they get a job. So they're attending and succeeding at high school, going onto tertiary study across diverse STEM programmes and ultimately growing the number of competent and skilled Māori in the STEM sector."
Echoing this, Pūhoro Director Naomi Manu said in a 2020 Stuff article "So many of our young Māori are being streamed out of science, which is why the largest drop off of science participation occurs between year 11 and 12, when science is no longer compulsory at school. It's not uncommon for a Māori student to be the only brown face in the room at university. That can be isolating. We want to disrupt and change that."
Pūhoro complements its focus on STEM skills and capability development with a dedication to kaupapa Māori, which seeks to encourage success through incorporating Māori identities, which grow through access to culture, language and understanding of Ao Māori. For example, the programme uses Māori teaching and learning methods by having tuakana – (older students) support the learning of teina (younger students). All of this enables graduates to balance their technical expertise with a Māori worldview which will empower them to bring their kaupapa to others that they work or associate with.
Annaleise says of her time as a student within the Programme that her kaihautū gave her "exposure to vital skills that you need, like CV building, job interview skills, and career ideas by bringing in people from different STEM career pathways. Last year, I did an internship with Fontera working with the engineers, and they were amazing. It was really cool talking to them and seeing how they work."
Annaleise subsequently went on to gain work experience in the wine industry. "I got to work out in the vineyards, and in the labs as well, extracting DNA. I was just kind of getting handed stuff – 'off you go, good luck!' But there was no pressure, so it was really exciting just to see all of the different things that you didn't even know were part of the industry - I had never even seen a grapevine close up!"
Ruby-Isabella Reedy-Land, who has recently graduated from her studies and is now the regional Kaihautū for Pūhoro says "If we had a programme like Pūhoro during my time at high school, I personally believe that more of my peers would have gone on to tertiary education, however I was one of the only Māori in my year group to complete a Bachelor of Science." Although a programme like Pūhoro wasn't established for her years at secondary school, she now has the opportunity to open participants up to their own Māori culture and provide learners with additional motivation to advance in STEM subjects.
"While doing my biology degree, I received the Prime Minister's Scholarship to intern in Thailand for the Foundation for Children. Through my time over there, I thoroughly enjoyed learning about the culture of Thailand and thought it was ignorant to not learn about my own culture, Māori. And so when I returned I enrolled myself into a Bachelors of Art and majored in Māori and Indigenous Knowledge and Te Reo Māori. It was one of the best decisions I have made."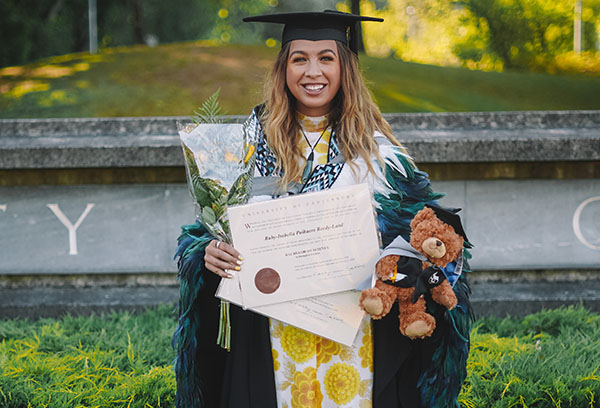 Ruby Reedy-Land has recently graduated from UC with a BA and BSc
Ruby is passionate about her whānau's future success in higher education and turning her own experiences into teaching moments for her baby sister.
"At least for my family, I am able to bring the Reo and practices that I've learned into our household, which means my family are able to further connect themselves to our culture again through what I have learnt through my studies. I've been doing Reo practice with my two year old sister, teaching her all of the words for her body parts and now starting on numbers. The fact that I wasn't taught Te Ao Māori or Te Reo Māori was no fault of my own whānau, it was more that they just weren't able to teach me because they are part of a generation that were assimilated into a different society, one where Māori tikanga and practices were diminished. But now I'm able to make that change, and ignite that spark. That's huge" she says.
Pūhoro STEM Academy has also this year signed a three-year partnership with Genesis Energy and continues to garner support from the STEM sector. This latest announcement from the Ministry of Education will be extremely welcomed news, Minister Davis affirmed in his speech, "…thousands more rangatahi Māori (will be able) to participate and succeed in the fields of science, technology, and innovation."