Ara opens new Osteopathic teaching clinic in Christchurch CBD
Ara's new central city Osteopathic teaching clinic will begin taking appointments from 18 March 2019.
While providing a valued service to the public, the clinic will also serve as a teaching opportunity for students of the new Bachelor of Musculoskeletal Health who will initially observe the treatments given by registered osteopaths, and by the third year will be treating patients under close supervision.
Tutor Emma Fairs says, "Initially in their first and second years of study they'll be observing. Then towards the end of their second year they'll start to be involved with taking case histories and in the third year they'll begin treating patients under supervision."
Osteopathy is a form of manual medicine that can be used to improve musculoskeletal function in the body, restore mobility, decrease muscle tension, reduce nerve irritation and improve circulation.
Fairs says people can seek treatment from an osteopath for a range of issues, including "sporting injuries, rehabilitation, spine and joint aches and pains including knee, ankle and shoulder injuries. Osteopaths also commonly see patients with headaches, postural problems and reduced mobility."
The clinic costs are reasonable, with appointments that are covered by ACC costing $25 and those without ACC costing $50. A discounted rate will also be provided to community services cardholders, retirees and Ara staff and students.
Conveniently located at 130 High Street in the central city, the clinic is also ACC registered so patients do not require a referral from a GP. The clinic hours are: Mondays 9-1pm, Tuesdays and Wednesdays 1-5pm and Fridays 12-4pm.
To make an appointment please book on the booking site or call the clinic on 03 940 8856.
You can also find out more about the Osteopathic teaching clinic in this video on the Ara YouTube channel.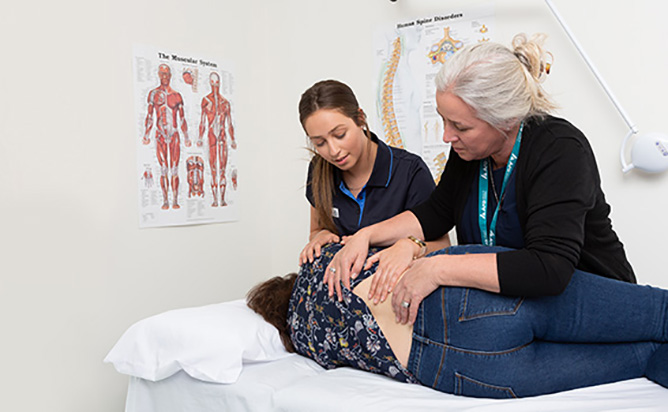 Keren Wright, a 2nd year Osteopathy student being taught by Osteopathy lecturer, Emma Fairs in the new clinic.