Ara first in NZ to adopt CognAssist for learning challenges
Having a learning challenge need not be a barrier to study success. Ara Learning Advisors have helped hundreds of students to develop strategies for overcoming their individual challenges.
Now the institute is the first in New Zealand to adopt an innovative framework for assessing and addressing learning challenges to ensure every student has the tools to finish their qualification and achieve their employment goals.
CognAssist is a UK-based organisation established to make the world a more inclusive place by identifying and supporting neurodiverse learners with innovative coping strategies. Founder and CEO Chris Quickfall overcame his own challenges with dyslexia to complete a Mechanical Engineering degree and is passionate about supporting others to succeed too.
The company's Head of Client Experience Louise Karwowski is in Christchurch to train Ara's Learning Advisors to use CognAssist.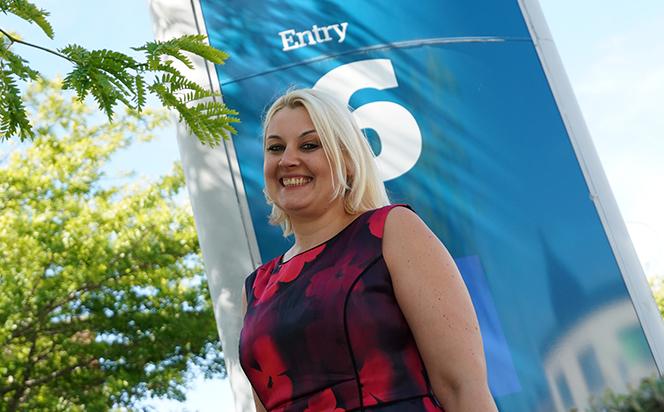 Louise Karwowski from UK-based company CognAssist was at Ara to train Learning Advisors to use the new framework to further support students with learning challenges.
"This is a first for New Zealand and a massive opportunity for learners at Ara. Everyone thinks and learns differently and we have seen many learners who had a tough time in education flourish with CognAssist tools."
The 30 minute assessment investigates eight cognitive domains that affect thinking and learning. If a learning need is identified, the student receives access to specific CognAssist strategies, which are presented as animations, videos and interactive exercises, and accessed on a computer, mobile phone or tablet at the rate of one per week.
Each strategy takes up to five minutes to complete and is accompanied with tools to practice in daily life.
New awareness and understanding of individual neuroscience can lead to life changing improvements.
"For example, you have a student who is always late. You could become frustrated and conclude that that student is just not motivated. Through CognAssist, however, you discover that the student has a problem with executive functioning, or being able to manage and organise themselves effectively."
"They have a learning challenge and they might not even know it. CognAssist offers strategies to support the student's learning and achievement. For the executive function domain for example, using calendars, using checklists, sticking to fixed routines and prioritising tasks can make a huge difference."
Karwowski was completing a PhD in theoretical chemistry at Manchester University when she began supporting students with learning challenges and discovered a passion for making a difference for those who were struggling with their learning.
"Initially it came as a surprise to us when we got feedback that CognAssist was not just leading to success in learning but was changing peoples' lives. People who have always been stressed about learning can now find ways to make it easier to learn and are more confident in themselves."
Karwowski was impressed with the calibre of knowledge about learning challenges at Ara. "I am delighted that the Ara team now has a sophisticated framework for assessing learners and providing strategies for coping with learning challenges. CognAssist will be a valuable supplementary tool in the advisors' toolkits to support students even more effectively and to add to the fantastic work they are already doing to support Ara students."
The eight cognitive domains for learning:
Verbal Memory – how an individual perceives and understands verbal information
Non Verbal Memory – how an individual understands non-verbal communication, such as body language or images
Literacy – the ability to read and write, and the ability to view, listen and effectively communicate with others
Numeracy – the ability to measure, rank and order information, as well as understand mathematical operations
Visual Information Processing Speed – how fast an individual can look at and process non-verbal information, such as pictures, images or diagrams
Executive Function – this controls what gets done, how it gets done and when it gets done (involves problem solving, multi-tasking and planning)
Verbal Reasoning – how an individual understands any verbal information, written or spoken
Visual Perception – the ability to recognise, analyse and assign meaning to visual information