Ara CE visits partner institutes in Japan
Tony Gray, Ara Institute of Canterbury Chief Executive, made a trip to Japan last week to strengthen ties with longstanding partner institutes, as well as some new ones, and to explore ideas for further collaboration.
Tim Hayashi, Ara's International Market Sector Manager for Japan, accompanied Gray on visits to the campuses of well-established partners Hiroshima Shudo University (Hiroshima) and J.F. Oberlin University (Tokyo), as well as those of newer partners Kokugakuin University (Tokyo), Teikyo University (Tokyo) and Yokohama National University (Kanagawa).
Next year we will celebrate 30-years of partnership with Hiroshima Shudo University (HSU), which has sent more than 1,000 students to study at Ara (formerly CPIT).
While in Japan, Gray delivered a presentation to approximately 180 HSU students and staff about New Zealand education, and study opportunities for international students. The presentation emphasised the institute's excellence in providing applied education and skills training, and the importance of work-integrated learning and a real world hands-on learning environment.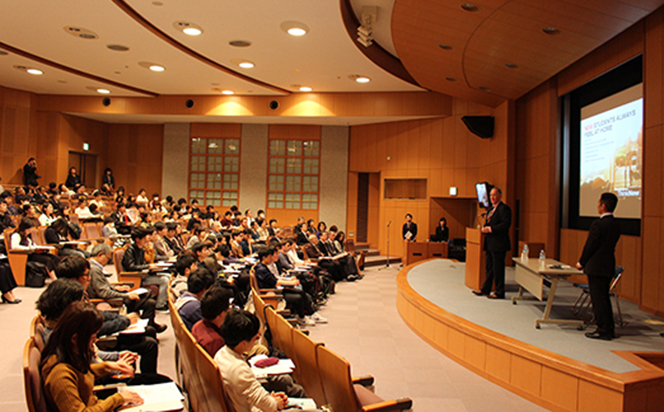 Tony Gray addressing students at Hiroshima Shudo University (HSU)
Japan is Ara's third largest international market and over the last 10-years, 2,200 Japanese students have come here to study. This year the institute have received 288 new enrolments from Japanese students, with 317 Japanese students studying at here in 2018- the largest number in the last decade.
The majority of these students come to study English language, but during last week's trip Gray discussed the possibility of developing further study opportunities including exchange programmes, at undergraduate and post-graduate levels, with the partner institutions, in subjects such as Business, Architectural Studies, Sports Science, Performing Arts and Design.