Ara athletes off to Naples
Italy here they come!
Talented athletes Tatiana Kaumoana and Keeley O'Hagan, both Ara Institute of Canterbury students, are excited to be representing New Zealand in athletics at the World University Games from 3-14 July, in Naples.
Prior to the games both women will be competing alongside the rest of the New Zealand team, at the Oceania Area Championships in Townsville, Australia.

Tatiana Kaumoana
At age 19, discus thrower Kaumoana is one of the youngest athletics in her category, but she's no stranger to international competition.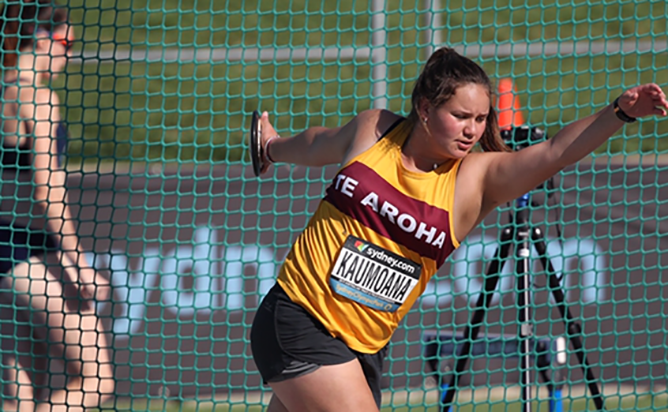 "I was pretty stoked to be selected. The first person I told was my Mum…we'd been waiting all day to find out and I was on the phone to her as the email came through. She's super happy," Kaumoana says.
"I went to the Youth Commonwealth Games in 2017 and I've competed in the last three years of the Australian Championships."
Funnily enough when Kaumoana was in primary school, she shied away from athletics at first.
"I hated running and I thought I hated athletics, but I then I tried throwing a discus and I loved it."
Originally, from the small town of Te Aroha in the North Island, Kaumoana moved to Christchurch last year after choosing to study a Bachelor of Medical Imaging at Ara, so she could combine her interests in anatomy and physics. She's now successfully in her second year.
"I've been interested in medical imaging ever since I broke my arm falling off my scooter when I was younger. The Medical Radiation Technologist who did my x-rays really helped me through that experience," she says.
Kaumoana admits that while balancing studying and training can be challenging her tutors at Ara have been supportive.
"I've got a few hours to make up on course placement but my tutors have been really good at helping me out with it and letting me sit my exams early," she says.
"I'm looking forward to seeing what I can do at the games and hopefully I can pull out another personal best and make the finals. This is my first time going to Europe so it's pretty exciting… the forecast looks like it's going to be pretty hot!"
Keeley O'Hagan
High-jump competitor Keeley O'Hagan is also rearing to spring into the competition, following her recovery from some personal health setbacks over the last few years.
"I have travelled quite a bit for sport but I think this time feels the most special because I feel so much more resilient. The main thing for me is having a high level of competition again," she says.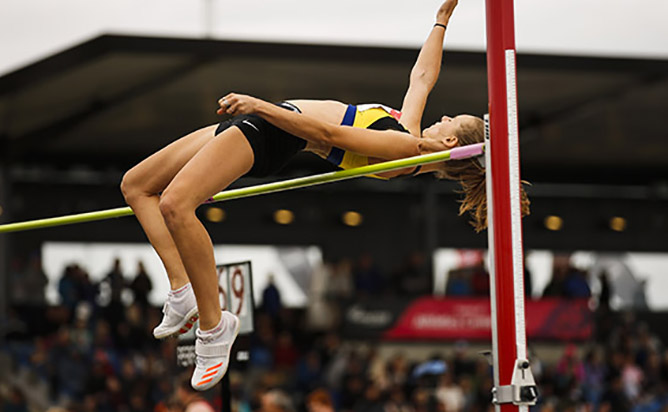 O'Hagan admits her time off could present a challenge, but nothing she can't overcome.
"Having some time off from my sport means I might lack some experience over the last few years… but at the same time I'm feeling really confident. My training is going well and I have the confidence back that I haven't had in previous competitions."
O'Hagan competed at the 2015 World University Games in South Korea so she has a good grasp on the physical demands ahead of her. With a current personal best of a 185cm jump, O'Hagan has set herself a goal to break the New Zealand high jump record of 192cm within the next few years.
"There is a lot of downtime at competition where you need to chill out, watch Netflix and hang out with friends; because obviously we can't be on the go and on our feet all day, with what we're trying to achieve with our bodies."
O'Hagan pushes herself to succeed both on and off the field and has recently returned to study. Having already completed a Bachelor of Arts in Criminology and Anthropology, this year she started her second degree, a Bachelor of Applied Science in Human Nutrition at Ara.
"I would really like to mix both of my degrees somehow in the future," she says. "I used to work for Corrections and I think there's a need for the wellbeing side of that to be addressed."
"I really enjoy being at Ara compared to my previous study at Victoria University. It's just so much more about one-on-one time here, compared to University where you would never get to talk to lecturers properly. The Ara tutors have been super accommodating with my sport and I really enjoy the content and the style of smaller learning groups…it's a lot nicer than having 300 people in one lecture hall!" she says.
The World University Games
Forty-seven athletes were selected across seven sporting categories to represent New Zealand in the 2019 World University Games, which is the 30th biennial of the event. The New Zealand team will join more than 9,000 student athletes from 128 countries competing in the prestigious international sporting competition.
Both Tatiana and Keeley have been fundraising in their hometowns to support their trips to the Games. Tatiana has reached her fundraising goal, but Keeley is continuing to fundraise and you can support her through her Givealittle page.