Ara | Te Pūkenga Student Scores Incredible Sail GP Event Internship
The ITM New Zealand Sail Grand Prix is happening in Ōtautahi over the next couple of days and Hannah Whykes, an Ara | Te Pūkenga student, has scored an incredible internship as part of ChristchurchNZ and Sail GP's Inspire Careers programme.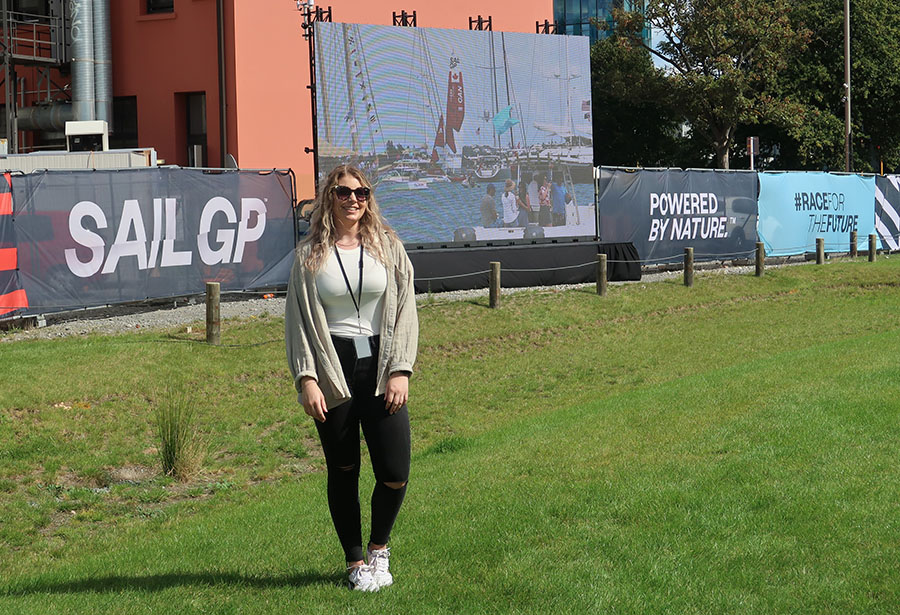 The programme aims to provide real-world opportunities for young people interested in the sports, events and engineering sectors.
"Not only is this such an incredible opportunity and event to be a part of but it also reflects what I have been learning," said Whykes.
"One of my last papers in my Bachelor of Applied Management in Marketing and Sales involves critical reflection. We do 100 hours in an organisation so we can understand what we have studied and how we can apply it into the real world."
David Boyte, ChristchurchNZ Marketing Manager for Events and Partnerships said Hannah's experience suited the role and her enthusiasm for the event. "We felt like she would fit in well with the CNZ Marketing team and she has."
Whykes' role involves working on the ITM New Zealand Sail Grand Prix Live Site helping to support the development and delivery of the marketing plans.
"It's all about getting people aware and involved with the live stream event happening in the city centre," Whykes said.
SailGP is a two-day international sailing competition jam packed with all things action and intensity. It will bring various people to Christchurch – helping the city gain the recognition it deserves.
Whykes said the event will help put Christchurch on the map and showcase all the amazing locations and landmarks this city has to offer. "My input will be like my legacy to Christchurch and a huge benefit for all our businesses," said Whykes.
"It's also been an amazing experience working with ChristchurchNZ. Everyone has been so welcoming, and they have such a good team culture – everyone is so helpful."
The aim of the internship is to give Hannah the valuable experience of developing new skills that she can take into the workforce while also being a part of a thrilling new initiative for the city she's lived in most of her life.
"It's a really exciting event for Christchurch, a truly global event for the city and one which brings international visitation. To work on an event like this does not come around often. It's a great experience where she will learn a lot about events and event marketing," Boyte said.
The ITM New Zealand Sail Grand Prix Live Site can be found at The Green, between Cathedral Square and Te Pae Christchurch Convention Centre. To read more about the event, check out ChristchurchNZ's website here.