Visualise this: a new generation of interior designers
Ara Diploma of Interior Design (Residential) students favour a dramatic approach in the end of year exhibition Visualise - 30 November to 7 December, in the Kahukura, City Campus.
Two students with very different backgrounds explain their designs, why they chose Ara and what happens next?

Anais Guennoc
Coming from France, with eight years' experience as a structural engineer (five in Paris, three in Christchurch), Anais brought some advantages to her studies – she is skilled in planning and technical drawing and has worked closely with architects and designers. But there were challenges as well.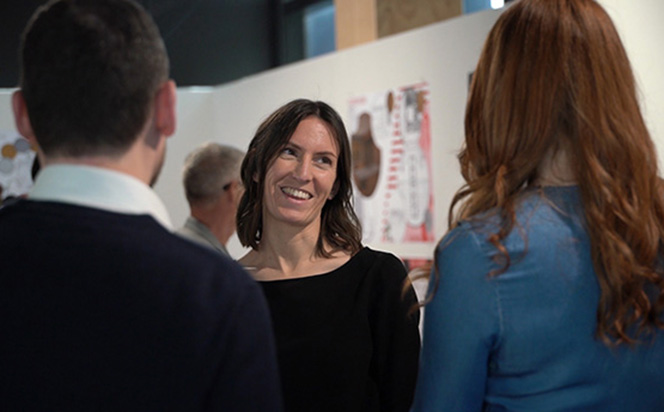 Jaymie Hill
North Canterbury local Jaymie had been working in hospitality for some six years since leaving high school and had "hit a bit of a wall". She was looking for a creative career and has thrown herself into the one-year programme with huge dedication.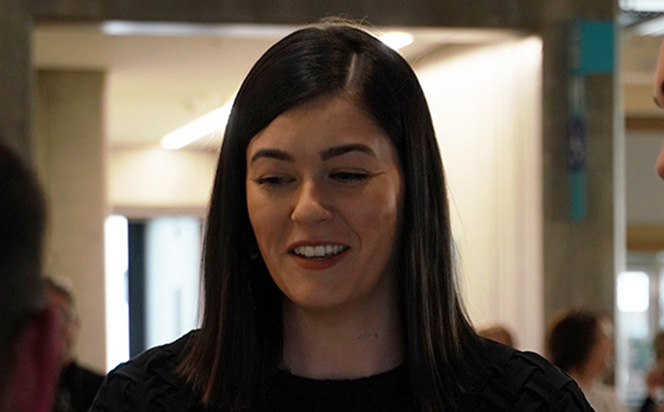 And… programme leader Nanda Rammers
The new Interior Design programme leader in 2019, Nanda is Dutch and completed the Diploma at Ara in 2008. Since then she has run her own practice and returned to Ara this year to share her experience, inspire students and write the new programmes for 2019.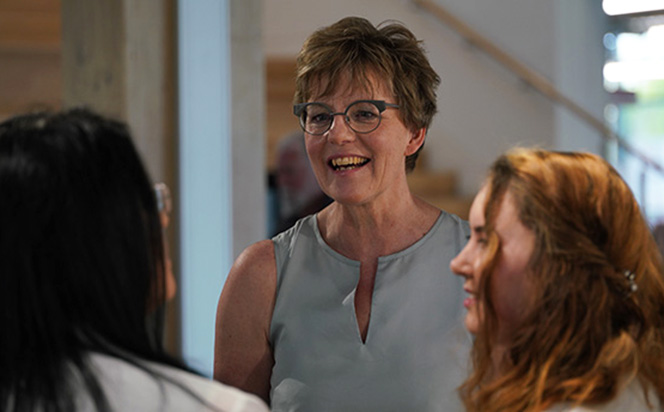 What inspired your kitchen and/or bathroom designs?
Anais: I like my designs to be for one specific place and one specific client, so I usually start with observing the immediate environment and thinking about the use of natural light, the relation to the other rooms or the garden and how people will physically interact with the space.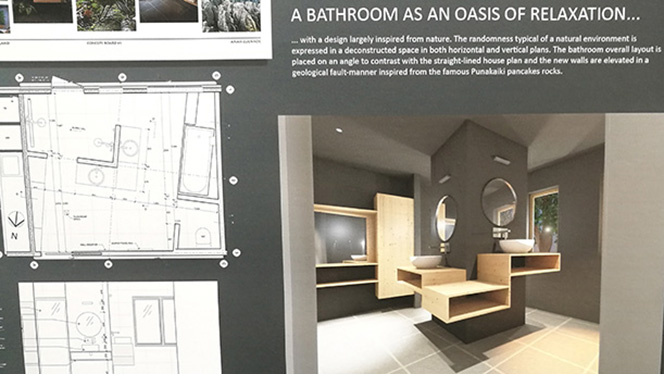 My kitchen has two main island elements and walls kept completely clear so people don't enter the space but literally circulate around it. This configuration also enables the natural light to flood the space. I developed my design from an image of the Japanese 'shou sugi' panel, a method that consists of burning wood to make it more durable. This image met my perception of Italian design as it combines the warmth of wood with the richness of black colour and is strong enough to last for a lifetime. I added white marble for the noble touch and brushed brass to catch the light.
Jaymie: I have gone with a simple open plan design – the living room connects with the kitchen. The dining room is an extension of the kitchen bench, because it is a large social, Italian, family. With the extra work space, they can all be cooking and talking and tasting the pasta sauce.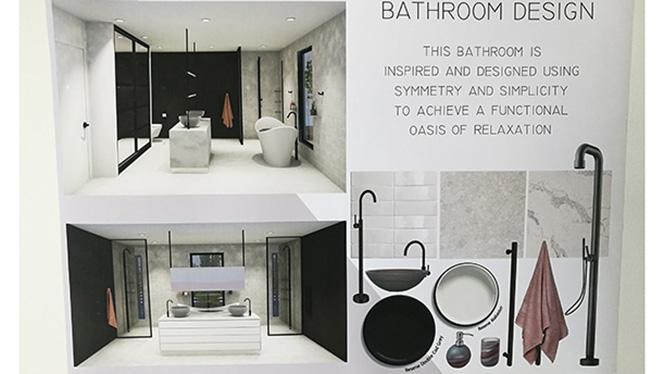 For the bathroom I wanted to do something out of the box, and different to my peers. You need to think about the balance of everything before you throw it all together. It is very symmetrical and it is a relaxation spa bath area, but I wanted it to be usable from both sides so the ceiling-hung mirror means you can wash your hands from either side. I've only seen images of an island vanity myself; so it is probably more an overseas inspiration.
What made you choose interior design at Ara?
Anais: Last year, I started to realise how much I was missing the design component in my job. I had the opportunity to talk to (Head of Architectural Studies) Belfiore who introduced me to Nanda. We discussed in depth what the course was all about, the range of tutors at Ara from Italy, Poland, Holland and New Zealand, and about the opportunities in this industry.It was the right time for me for a career change.
Jaymie: Last year I studied a Certificate in Creativity here at Ara; I have always wanted to do something in the creative industries but I wasn't 100% sure what exactly I wanted to do.
I wasn't sure if I could go back to school and I was used to having a comfortable wage and a normal lifestyle. So I started with that and I really enjoyed it. I thought 'this is the time take the leap and do something creative'! The course was only for the year, so that suited me well because I live in north Canterbury and travelling into town every day for three years as a student wasn't something I wanted to do. The Certificate in Creativity was six months long and it set me up for studying and the lifestyle of a student.
What were the biggest challenges for you?
Anais: Coming from the engineering field, I struggled to integrate the idea that there is no right or wrong solutions, there are just infinite possibilities potentially adequate or not depending on what issues you are trying to solve. In the end, if you are genuine in your design and your approach, you will always find someone who will enjoy it.
Jaymie: It has been challenging at times, but I think if it wasn't then I would not have enjoyed it as much. Some assignments I enjoyed more than others, but I love a challenge, it keeps you driven. If I had the option of two years, I would have still done it in one, because I just want to get out there and start. You just don't switch off – like, why are there seam lines in my cabinetry at home? But there is so much more to learn and it is so exciting!
When you enjoy it, it is easier to do and it is actually, I have worked on my feet my whole life, go, go, go but I have sat on my butt all year doing this and I have really enjoyed it. I always said I would never sit in front a computer but now I am enjoying it and it is so satisfying.
What do you plan to do next year?
Anais: I am thinking of starting my own practice. Now that I have done the Professional Practice course, have learnt how to do a business plan and have been taught about various regulations such as the Consumers Act, I feel a lot more confident about it.
Jaymie: I surprised myself, because coming into the course I thought I would do something with colours or fabrics and soft furnishings, but now I want to design spaces. I want to create something that someone will enjoy as much as I have enjoyed creating it for them. We have learnt so much but there is so much more to learn, so I want to better myself and work for someone, get more experience, then potentially come back and do the (interior Design) commercial programme at Ara in a few more years. Then a long term goal would be to have my own business.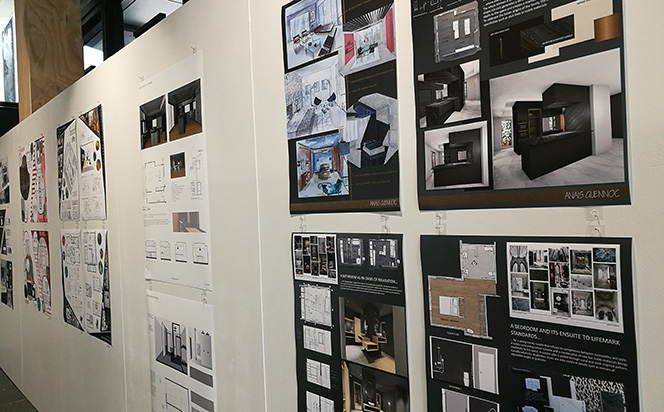 Award winners:
Visualise Belgotex Award – Karen Hossack-Hall
Visualise Belgotex Award – Victoria Dobbs
Visualise Drawing Room Award – Allie Jackson
Visualise Drawing Room Award – Brooke Tier
Visualise Dulux Award – Anais Guennoc
Visualise Dulux Award – Tui Short
Visualise Resene Award – Anais Guennoc
Visualise Resene Award – Tui Short
Visualise Lifemark Award – Allie Jackson
Visualise Lifemark Award – Patrick Lam
Visualise Laminex Award – Alexis Webster
Visualise Laminex Award – Tina Corson
Visualise Blum Award – Brooke Tier
Visualise Blum Award – Jaymie Hill
Visualise Interior Design Tutors Award – Victoria Dobbs