Student project supports wetland improvement
"Global environmental issues seem too big for our small group of students to tackle. But we can take local action right here in Timaru," says Amy Woodfield.
Woodfield, who studies a level 5 Diploma in Outdoor Instruction and Management at Ara, is part of a project that is aiming to restore the Otipua Wetland to its original state.
In total, close to 30 Ara Sustainability and Outdoor Education students are working together with the Timaru District Council on a predator trapping project that will hopefully see the local bird population in the wetland thrive.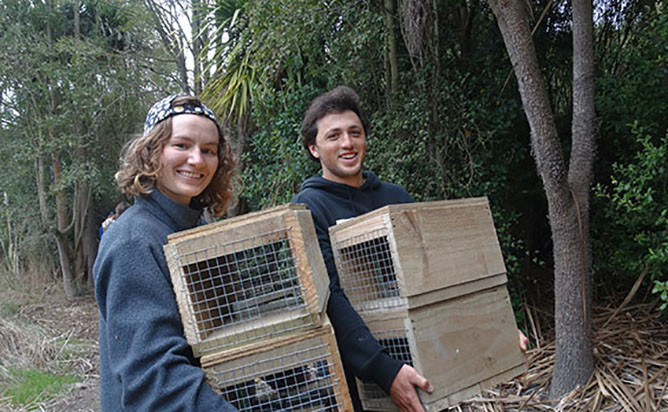 (Photo credit: Chris Tobin) Amy Woodfield and Reece Saywell are carrying some of the 25 traps that were used in the Otipua Wetland.
Rob Dunn, one of the Sustainability and Outdoor Education tutors at Ara Institute of Canterbury, says Ara students have been involved in a number of conservation initiatives at the Otipua Wetland for many years.
"We've had students involved in various programmes there over the years. This year, additionally to helping out with tree planting and regeneration work we are setting up a trapping programme."
As part of their studies the level three, four and five students have been monitoring predators such as mice, rats, stoats, hedgehogs and possums around the wetland perimeters using tracking tunnels which record animals' footprints and provide information about what predator species are present in an area.
Dunn says based on the tracking tunnel results they are going to set up traps to minimise numbers of pests in the area this term.
"The next phase includes the students placing the traps, checking them on a regular basis as well as resetting them. They will also be responsible for managing the findings of their data.
"We want to make the most of the results we get through this programme and manage that information carefully. Timaru District Council can use this knowledge for future projects around the wetland and our students might even do a feasibility study on how we could expand the trapping programme," says Dunn.
Dunn is looking forward to getting the trapping project started over the next few weeks.
"It is just great to connect students to a conservation project that is local, within our urban area and plays an important role for our community. I think this trapping project will make a big difference and it's really nice to see students get excited about it."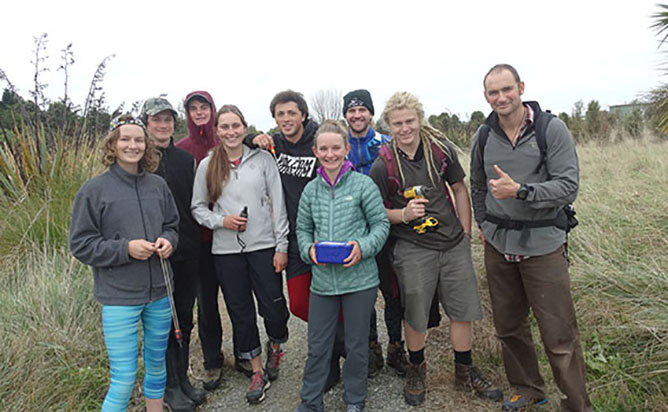 (Photo credit: Chris Tobin) Ara Sustainability and Outdoor Education students and their tutor Rob Dun (right) are setting traps to reduce the number of predators for first time this year.
Parks and Recreation Manager Bill Steans from the Timaru District Council agrees with Dunn.
"This collaboration with Ara is a great opportunity for both students and wider community alike. It offers the students real-life, hands on experience doing a job that makes a massive difference to the native fauna in the Wetland, while the community gets to enjoy a continually improving environment so close to the city.
"The Otipua Wetland is an incredibly important place for bird life. It provides a haven for both local and migratory birds such as ducks, stilts herons and pukekos to nest. Controlling predators such as rats and stoats combined with new plantings of native trees and tussocks are vital to ensure it remains this way."
Ara's predator trapping project also ties in with some big and important national projects such as the Te Manahuna Aoraki project that aims to make the Mackenzie Basin predator free by 2040 and Predator Free NZ 2050.