Standing tall like a Totara
Spending 28 years of your life in the same industry and enjoying your work is a massive achievement in itself.
On top of that, Ara's Sustainability and Outdoor Education Programme Leader in Timaru, Sash Nukada, was recognised for excellence in outdoor leadership by the New Zealand Outdoor Instructors Association (NZOIA) in October.
He received the prestigious Tall Totara Award in recognition of his contribution to outdoor instructing and dedication to passing on his love of adventure.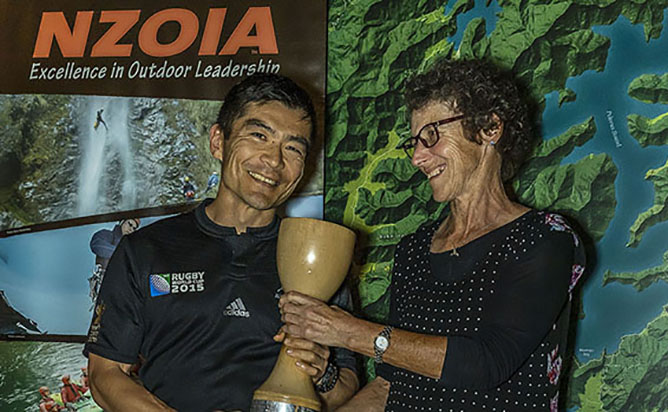 Sash Nukada wasn't aware that he was nominated for the award and said he feels honoured and humbled.
According to NZOIA the Tall Totara award is presented to an instructor who personifies excellence in outdoor leadership. Recipients are highly respected role models who have contributed significantly to outdoor education in New Zealand.
Nukada said he wasn't aware that he was nominated for the award which was presented at the annual symposium.
"I was sitting at the dinner, looking around who could be the nominee and when my name was read out I was completely shocked! I didn't see that one coming.
"The room was full of people who I highly value and respect, some of who were mentors and gurus for me. To be selected by these peers made me feel very humbled and very honoured.
"I thought, if I work my butt of, I might have a chance of winning this award when I'm 60, but not now."
NZOIA Chair Gillian Wratt said Mr Nukada was an accomplished climber and educator who had remained humble despite his considerable achievements.
"Humorously described by one his nominators as 'the love child of a fling between rock climbing legend Dan Osman and the Dalai Lama', Sash personifies excellence in outdoor leadership," Ms Wratt said.
"His mix of technical ability, patience and humour are renowned in the industry and he has played an important role in inspiring many of the outdoor instructors who are working across New Zealand today."
Ara student Reece Saywell-Emms, who finished his Diploma in Outdoor Instruction and Management at the end of this semester, was recognised for his all-round ability, hard work and integrity, with the Tertiary Award by the Association.
This award is aimed at students who have a passion for outdoor instruction and show great potential for further involvement in the industry beyond their studies.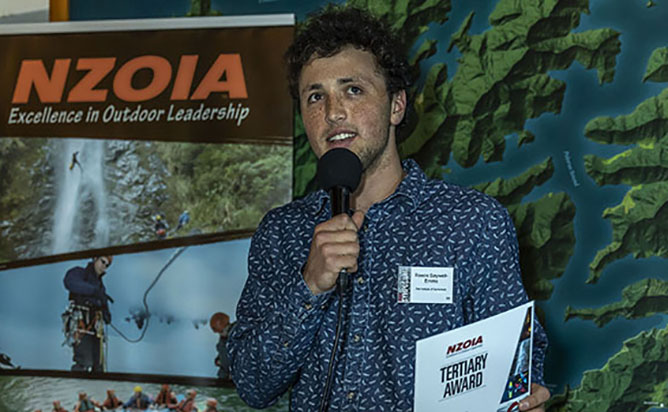 Reece Saywell-Emms received the Tertiary Award from the New Zealand Outdoor Instructors Association.
Saywell-Emms, who would like to find work in an outdoor education centre preferably in the South Island, said it was a great opportunity for him to attend the symposium and to meet future employers.
"I got to meet so many new people and make connections with possible employers. It was also great to see how much passion people have for the outdoor education industry."
According to Nukada, Ara Outdoor Education graduates have been very successful in the industry across New Zealand.
He said out of the last seven years, Timaru graduates have won the second most prestigious prize awarded by the NZOIA at the symposium, the Emerging Instructor Award, five times.
He is also proud of the fact that in the biggest outdoor education in the North Island, the Hillary Outdoors Tongariro, half of the staff members are Timaru graduates. The other Hillary Outdoors Centre on the Great Barrier Island currently employs 100% Timaru graduates.