ICT students thrive working with industry
While school was out over summer for most Ara students, a group of four computing students and their lecturer took on yet more work: continuing to build on their skills and gain invaluable work-experience.
Chris Wordsworth, Kelsey Vavasour, Nicholas Leslie, and Jos Van Olst, all in different stages of their Bachelor of ICT, took on the challenge of working together with international company Jade Software on a couple of exciting new projects.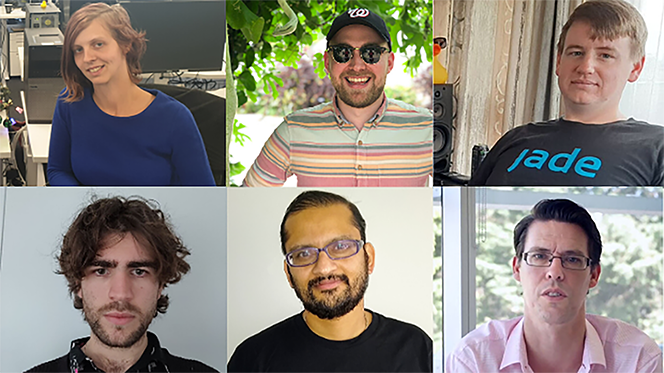 Top row: Students Kelsey Vavasour, Nicholas Leslie and Chris Wordsworth,
Bottom row: Student Jos Van Olst, lecturer Amit Sarkar and Jade Software Director of Technology Eduard Liebenberger
Senior lecturer Amit Sarkar has been associated with Jade for the last 15 years after training with them to become a Jade-certified developer and was involved in supervising dozens of capstone projects. Through this connection he organised for his students to be able to work with Jade on two projects, funded by Callaghan Innovation Research and Development grants.
Sarkar says, "The most important element of internships is that they integrate classroom knowledge and theory with practical skills developed in professional settings. Ara has a long relationship with Jade and every semester the EDI- Computing Department places students to complete work-integrated learning projects and many of them are working as permanent staff at Jade. Internships are a great way to apply the knowledge from the classroom to real-world experience, build professional networks and marketability."
Early last year, third-year student Chris Wordsworth worked with Jade to develop 'Bella', New Zealand's first digital barista, who came to life when artificial intelligence (AI) technology was connected to a standard coffee machine.
Chris says, "Originally what I did with the coffee machine was based on the hardware - reverse engineering the machine and connecting it to the internet. Whereas when my classmates came on board for the summer, we developed the augmented intelligence side of things and the user interface, which involved working with computer vision and AI chatbots."
While chatbots are not a new technology, modern chatbots are now capable of doing things we never expected, such as making our coffee. But does this mean we don't need human baristas?
"One of the things Jade is really focusing on is how AI can assist people, not replace them," Kelsey Vavasour says. "Everyone gets really excited about coffee and most people have an opinion about it, so it's a really good medium to explore the possibility of conversational AI and digital employees."
Chris agrees. "Traditional chatbots facilitate a 'Q & A' where you provide some information and they respond back to you, but the new generation of chatbots allow more detailed information to be captured. Developers can reformat and restructure chatbot responses depending on what users say to them, so the conversations seem a lot more real."
The other project the students worked on, which they dubbed 'Camera Vision' was about enhancing camera security for businesses.
While mobile data networks are fast, sending multiple video streams from numerous cameras can quickly become expensive.To combat this issue the students built an 'on-edge camera' which can analyse video footage on the device, instead of within a cloud-based system.
"One of the other things was making the camera solar powered and connecting it up to 4G/5G so it could be off the grid, rather than having to be wired into power and internet," Kelsey says.
Chris explains, "We took existing technology and decentralised the workloads. This meant instead of processing taking place at the server and being streamed live online, the processing happened in the camera, then data was extracted and sent to the server. This increases security and peace of mind, as you don't have live streams getting broadcast on the internet."
As a result of Ara's close industry relationships students are given the opportunity to test themselves outside of the classroom and explore different areas of interest.
"I didn't think we'd be able to accomplish what we did," Nicholas Lesley says. "We had no experience of AI machine learning, so at the end of the project to have something that was actually workable was really cool."
"It's made me more confident. Being dropped into the deep-end and working with technology I never thought I would have access to has made me feel more prepared to go into the real world," Lesley says.
Jade Software Director of Technology Eduard Liebenberger was also satisfied with the outcome and what the team achieved in such a short amount of time. He was impressed how proactive and focused on problem-solving the interns were throughout the project.
"I turned to Ara because of our existing relationship. We have had excellent experience with Ara students, interns, and graduates in the past. Going forward we will continue to broaden our existing relationship with Ara - both to give back to the community and help students to get meaningful work experience and careers."
Sarkar is proud of his students' progress, "Each of these students has a can-do attitude, they know the principles of coding and they can think. I needed students who wouldn't be traumatised if they failed, because when you're in real-life situations, failure is the norm and I had to find people who were capable of working with an experimentation mindset."
Sarkar can't wait to fill another group of student's summers with industry internships and he's already bagged a deal with Allied Telesis to set up six new Callaghan Innovation funded projects.