Fashion inspired by trauma
Everyone deals with traumatic experiences differently and for fashion designers part of the design process is drawing upon these experiences for inspiration and creativity to design clothes reflecting their personal journey.
Rachel Macnab and Ethan Allchurch-Rush, two second-year Fashion Design students at Ara, turned their personal experiences into haute couture gowns and captivated the judges of the Hokonui Fashion Awards, New Zealand's longest running competitive platform for upcoming designers.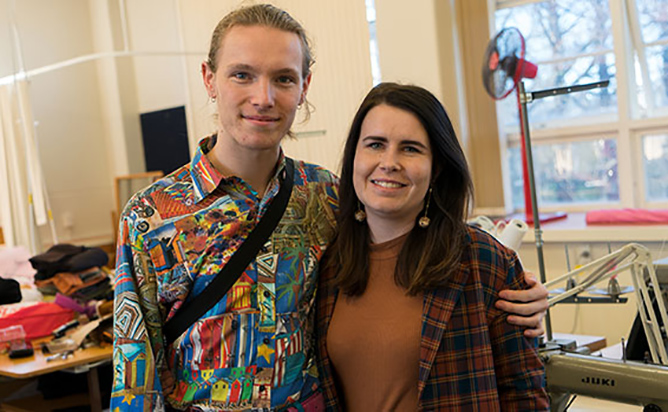 Ethan Allchurch-Rush and Rachel Macnab entered the Hokonui Fashion Award for the first time.
Macnab, who has suffered from numerous head and brain injuries, looked at how she could turn her pain into a dress that would tell her story and show people what she had endured. She excelled and received the Hokonui Heritage Precinct Open Avante Garde Award for her design.
"It was quite therapeutic to create this dress because I actually got a brain injury while I was doing it. My concept was that the dress was my brain and all the different parts on the dress are different symptoms of traumatic brain injury.
"I added googly eyes to symbolise how your vision gets all funny, big clouds around the head to represent brain fog and a big bruise on the back to show the impact of the cause of the injury. There is an anxiety ball attached that has lots of little teddy bears squished up against the sides and a dream-world because you tend to sleep a lot."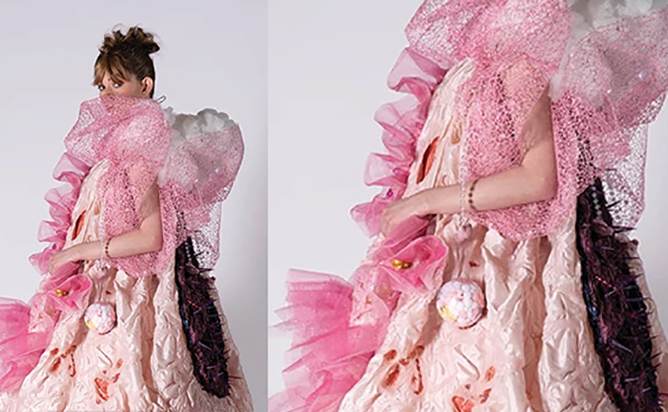 Macnab's dress represents the brain and attached are visual interpretations of symptoms that come with a brain injury.
While Macnab dealt with trauma when making the garment, Allchurch-Rush combined nature with mental health. This is a topic that is important to him and his design won him the best use of wool award.
"My idea was to reflect a problem that is common in the trans-community: body dysmorphia and body dysphoria. It is a topic and a community I am quite close with.
"I ended up going down the route of embellishment by using plaster models and needle felting, which is a method where you stab wool and it basically dreads. I made a lot of different kind of mushrooms, which were a symbolic way of showing how depression and mental health, while it decays you in a way, can also bring out something beautiful in the end. The mushrooms symbolise what you learn and who you become after experiencing mental health issues.
"For the garment itself I looked at tailoring and masculine shapes. My idea was to turn masculine shapes into more of a feminine figure. That's why my design features the slim waist and the sharp shoulders but it flows into this wide hip body," said Allchurch-Rush.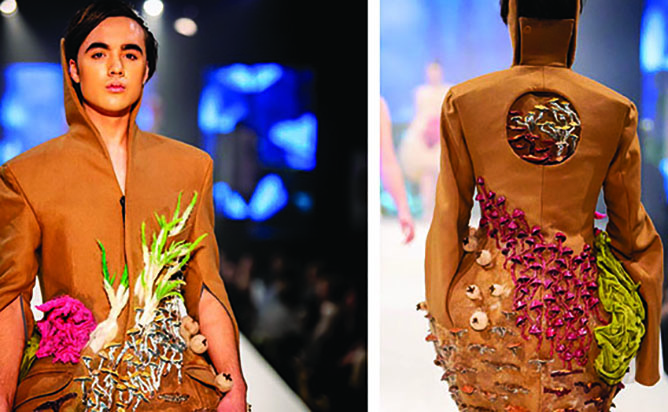 Allchurch-Rush combined nature with mental health in his garment. He needle felted the different mushrooms.
Both, Macnab and Allchurch-Rush, entered the Hokonui Fashion Award for the first time with an Avant Garde piece each. These designs are very often difficult to put together because of the materials and skill sets. Therefore, the two friends worked closely together and helped each other sew and glue eyes, teddy bears and mushrooms onto their garments.
For Macnab the announcement of the winners was extra special as it fell on her birthday. While neither of them were able to attend the event in person, they both watched a live stream online. Macnab said she was shocked and started crying when her name came up, but it was the best birthday present she could have wished for.
"It is nice to have this validation of 'oh yeah I am actually good at this'. Just because you love designing doesn't necessarily mean that you are good at it. But now I know that my work is being appreciated by other people as well," said Macnab.
Ara's Programme Leader for Fashion Technology and Design, Nathan Ingram, said Ara has been consistently winning the Avant Garde section of the Hokonui Fashion Design Award for the past three years.
"Although we are known in the industry for being a technically based fashion school, with a strong emphasis on patternmaking, garment construction and textiles, this shows that we can also deliver when it comes to conceptually designed work as well as the commercial high street looks."
The Avant Garde course is a second-year paper at Ara and introduces students to using an experimental, process driven approach for their designs. Students are encouraged to be innovative with unconventional materials, methods and techniques and to use their work to communicate a concept or design story.
"By the time our students start the Avant Garde project they already have a strong foundation in technical skills and in-depth experience working with a variety of specialist disciplines. This technical background provides the fundamental framework and the aim is for them is to push boundaries of where fashion can go and what fashion means to them as contemporary designers," said Ingram.