"Everything is waiting just outside your comfort zone"
Jocelyn O'Donnell had three mid-life goals: to run a marathon, learn to speak French and get a degree. With ambition that knows no bounds she's about to tick the last goal off her list when she graduates today in Ara's Spring Graduation Ceremony.
"It was just one of those things. I've always wanted to get a degree," she says.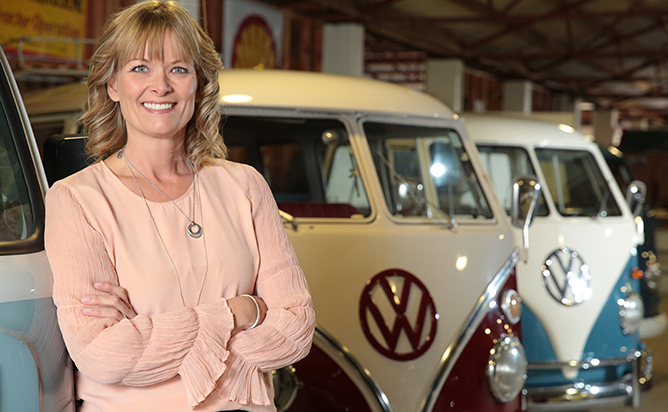 Photo supplied by The Life Magazine
As well as receiving her degree, O'Donnell is bracing herself to stand on stage and address 400 fellow graduates along with their proud whanau and tutors.
"My kids think it's really cool," she said, "They're quite excited about the fact that I'm graduating. Two of them will be watching on, as well as my husband and my Mum."
A prominent business woman O'Donnell is graduating with a Bachelor of Applied Management, which she has been credited with through the Centre of Assessment for Prior Learning (CAPL) at Ara.
"I'm fifty-one, but that was the beauty of doing CAPL. My lifestyle is very unstructured. I travel a lot for work and no two days are ever the same but with the prior learning degree I could work around that, so it gave me that flexibility to be able to continue with my everyday career."
Going back to education as an adult learner can be daunting for some, but O'Donnell was enticed by jumping into the deep end.

"One of my favourite sayings is 'everything is waiting for you, just outside your comfort zone' so even if I feel unsure about trying something I'm just like, you just have to do it!"
This was the exact mantra she lived by in 2005, when she unexpectedly inherited her family's business, and was thrown into the world of business.
O'Donnell is now in a governance role as a Director of HWR Group, a logistics based company in the Petroleum, Concrete, Environmental and Rural sectors comprising of close to 50 different businesses across both Australia and New Zealand, with 2500 employees.
Since coming on board the family business, O'Donnell has also spearheaded the redevelopment of her late father's truck collection, resulting in the opening of Bill Richardson Transport World in 2015 of which she is Executive Director, along with HWR's other tourism start-ups Classic Motorcycle Mecca, Dig This and The Lodges.
Although successful in her work O'Donnell realised she felt like something was missing.

"In 2008, I went to Harvard to a course called Families in Business, and one of the case studies was on the family who owned the Washington Post. Catherine Graham, the daughter of the founder ended up inheriting the business and she was hugely successful. But at the end of the case study there was a video clip of her, and she was quite an old lady by this stage and the interviewer said 'If there's anything you regret in life or that you would change what would it be?' and she said 'To get a degree at Harvard'. That's when I thought "Right, I'm not going to leave it that long until I get my degree!" she says.
O'Donnell said gaining her Business degree has given her a new appreciation for her work.
"I sit the boards of different companies we own, as well as on the Prime Minister's Business Advisory Council with a whole group of educated people. I've done quite a few different things while I've been in governance to help educate myself and one of these is doing this degree because it's helped me to delve deeper into business."
In her speech to the graduating students O'Donnell offers up some great pieces of advice, "Celebrate your wonderful achievement today but remember the learning never stops, your commitment and determination is what got you here today and it is that that will also drive you into the next phase of your lives. It is exciting to have so much potential and opportunity in front to you."
So, what has life-long learner O'Donnell got her sights set on now?

"I don't know actually," she says, "But I'd quite like to learn some te reo. That would be great."