When Andrew Noble drew his entry image of a human and alien encounter he never imagined that this would lead to an encounter of a different kind.
The third year Bachelor of Design (Motion Design) student was placed second in this year's Incheon City Conceptual Design Competition (ICDC) and his prize is a trip to Seoul with Weta Workshop Creative Director Richard Taylor.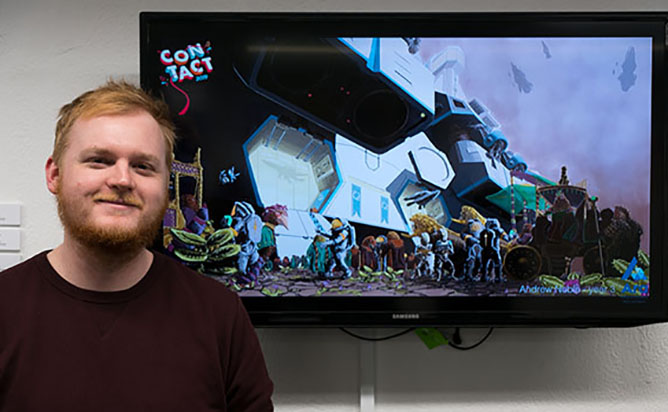 It took Andrew Noble around 30 to 40 hours to create his winning image of a human and alien encounter.
Noble, who has never travelled any further than Australia, said he is looking forward to going on this trip of a lifetime with the internationally recognised leader in digital animation at the end of August.
"I am excited to meet Richard Taylor and it is pretty awesome that he will know who I am! He is an amazing person. Maybe meeting him and travelling with him will help me get a job at Weta Workshop later on.
"I am hoping that during the trip he will be able to give me some constructive feedback about my work. Maybe some guidance on things to focus on and any advice that will help me enter the industry is welcome."
Noble spent around 30-40 hours designing and drawing his picture. He started off sketching aliens, humans and the big spacecraft in Photoshop and deciding on his style.
"I opted to go with a very early stage of the meeting of the two races with big spaceships in the background. The first thing that I decided on was the angle of looking up at the spaceship, so you could see the engine pointing down. I find that sort of sci-fi stuff really interesting.
"My initial reaction when I was designing the aliens was to draw a bald and pale skin kind of creature. But this had been done too many times before. So I went with something completely different that I hadn't done before and drew fur all over my aliens. Now they are big fluffy things and you can see them arriving in royal carriages in my picture."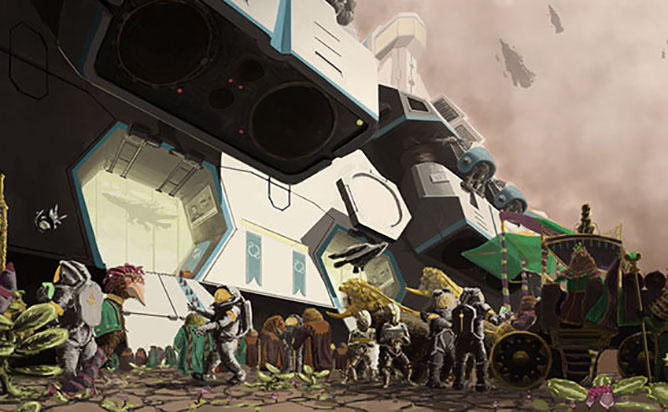 Andrew Noble imagined his aliens as furry creatures. They are arriving in royal carriages to greet the humans in front of their spacecraft.
Noble said he has liked drawing and art since high school but didn't like the way the subject was taught there. Instead it put him off pursuing his passion for a while.
He only found his desire to make art a career choice instead of just a hobby again once he studied the Certificate in Design at Ara.
"I am hoping to become a 3D modeller or do animation in game design. I'm really interested in tech-art. It's using coding or types of coding along with art to make visual bits. Working on something like that in the future would be really cool."
Noble praised the diversity of the course and that it gives students a broad overview of what pathways the industry offers.
"When I started, I didn't really know what branch I wanted to go down. It was good to get an overview and to experiment with different media such as films and video games so you could figure out what you're enjoying the most and what you're best at."
Noble is heading to Seoul on 25 August to attend the Award Ceremony of the sixth round of the ICCD competition. He is not fully aware yet of the entire itinerary but he is looking forward to exploring the city and networking.