Age no barrier for student rep at Spring Graduation
Due to address Ara's Spring Graduation Ceremony on Friday 21 September, graduate Michael Houghton says it's "an absolute honour" to speak on behalf of his fellow students, although it is "a bit nerve-wracking."
Forty-seven year old Cantabrian Houghton believes that age need not be a barrier to education. "It's never too late to change your path and try something new. Education enables doorways to be opened that would otherwise be closed." Houghton says in his graduation address.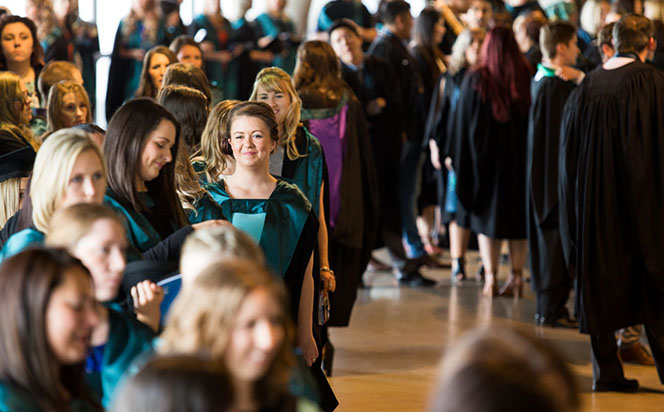 Houghton is graduating from Ara with a Diploma in Quantity Surveying, which secured him his current job working for Independent Line Services, submitting pricing tenders.
Admitting that quantity surveying was not a path he always envisioned himself taking, Houghton says that he spent many years working in the tourism industry and travelling.
"I thought about being a ski or snowboard instructor for a while" he says, "Then I became a bus driver up and down Mt Hutt, and I also drove tour buses in New Zealand and Europe."
After the Christchurch earthquakes, Houghton changed career again and drove vehicles for his current employer before deciding to study quantity surveying, which he says he chose because at the time, jobs were in demand, and the industry paid well.
Studying in tertiary for the first time came with some new challenges for Houghton. "It was quite tiring, using your brain all the time like that, but after a few weeks it was alright."
In his speech, Houghton acknowledges his tutors and other Ara staff, "They are very dedicated and passionate... without them we would not have been able to achieve this goal today."
His classmates also provided "an invaluable source of support" throughout his studies. "You could call on them at 10pm the night before an assignment was due and ask 'what the hell does this mean?'" Houghton says candidly.
He leaves his fellow students with the following advice, "Remember, you got through those tough times and you can use that determination again... So, whatever you choose to do, make sure you carry that drive to succeed forward with you and apply it to your future."
This spring ceremony 420 students are graduating in person, including the awarding of Graduate Degrees, Bachelor's Degrees, Diplomas and Certificates.
Ara Spring Graduation is at 10am, Horncastle Arena, this Friday 21 September.