Nearly ten years after graduating from Ara (formerly CPIT) with a degree in outdoor education, Sophie Watson is in charge of the subject at Wellington East Girls' College. She's the sole outdoor education instructor and also teaches junior physical education and health.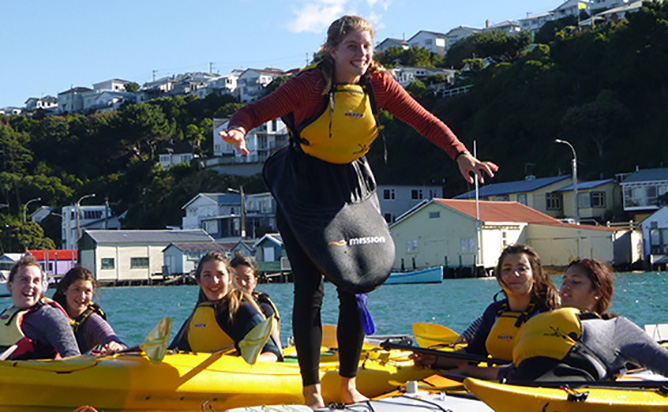 "As well as teaching I also manage the operation of the programme, including curriculum design and review," she says. "Plus I purchase and maintain equipment, create and implement our safety management systems and oversee the finances."
It's a busy job, but Sophie loves it. "I get to help young women learn and develop - there's nothing better than seeing them loving life. And getting outdoors on a daily basis is a pretty awesome part of the job too!"
Sophie credits her degree with giving her the self-confidence to take on this leadership role. "I was surrounded by inspiring, knowledgeable, supportive and creative tutors who challenged me to develop my understanding and myself. It helped me believe in my abilities and that's enabled me to develop and run a programme which is inspiring, fun and relevant for my students."
Sophie says her degree classes were always fun and taught in interesting ways. "I think an excellent indicator of a great programme and great teachers is when you look forward to attending class, like I did. The tutors were responsive to our interests and needs as a group and I felt like they adapted the course to maximise our learning opportunities."
One of things Sophie enjoyed most about her programme was its variety. "I learned about such a wide range of topics that not only developed my professional abilities but also gave me a lot of life skills that I use on a daily basis. Both the classroom and practical work were interesting, varied and relevant. It provided so many memorable experiences."
Sophie recently completed a Master's of Education and says she's excited about sharing and contributing to other outdoor educational organisations in the future.