A two-year outdoor education diploma at Ara has led to an exciting, globe-trotting career for Bia Boucinhas.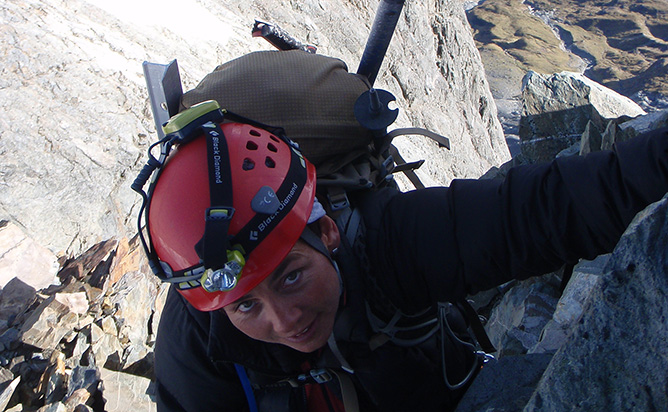 Since graduating in 2011, she's worked in New Zealand, Iceland and the sub-Antarctic Islands and soon she'll travel to Canada to meet up with friends who she studied with in Timaru and who themselves are working internationally in outdoor education.
Before coming to New Zealand to study, Bia worked as an English-as-a-second-language teacher at a large private school in Brazil. In her free time she would go rock climbing and mountaineering. She also spent two seasons as a field training officer with the Brazilian Antarctic Programme.
"At age 33 I discovered climbing and at age 35 I decided to come to New Zealand to pursue a career in the outdoor education industry," she says. "After doing a lot of research I learned that Aoraki (now Ara) was the only technical institute in the country to offer the mountaineering programme I was after. Also the location in Timaru – close to the mountains – played an important role in my decision."
Bia loved the practical approach at Ara. "Lots of time was spent in the field and the 'intensives' – weeks away learning kayaking, tramping, climbing and mountaineering – were definitely the best times. All of them were memorable. Two hundred days out of the year in the field is a great number!"
In her second year of study, Bia taught first year students which she says was a valuable experience with lots of feedback from the tutors. "Our tutors were truly invested in our growth and development as outdoor instructors and they provided guidance whenever we needed it. They were always approachable and friendly and some of them have become friends for life."
During her studies Bia gained several important industry qualifications (in bush, alpine and avalanche safety) that have helped in her career as an outdoor guide. She's worked as a glacier, climbing and alpine trekking guide and also works as an outdoor instructor for Ara, Tai Poutini and Otago Polytechnic, teaching mountaineering and climbing.
Her plan now is to return to Iceland for the summer season, then Europe for some climbing and on to Canada before returning to New Zealand.