Arthur Machado is a great example of the diversity of career opportunities that exist for graduates of sustainability and outdoor education programmes at Ara.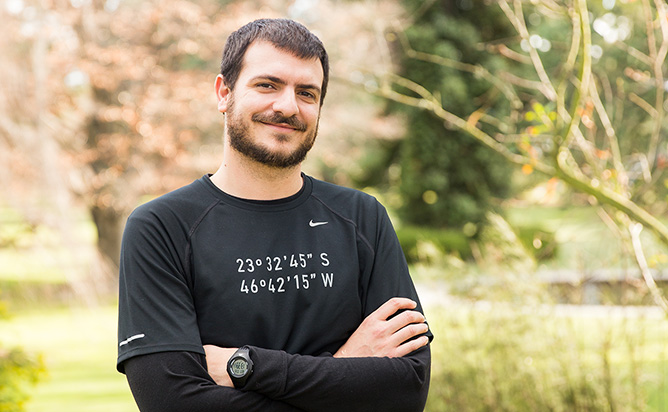 Originally from Brazil, Arthur now lives in Christchurch and works as an executive producer for film production company Resonate. "It's a very outdoor-focused and environmentally conscious company," Arthur says. "It gives me many opportunities to use the knowledge I acquired through my diploma."
Arthur says he uses the outdoor skills he acquired much more than he anticipated. "Things like weather forecasts, navigation, river crossings and tramping as well as awareness around sustainability. There's a lot of planning involved and when we deal with the Department of Conservation over permits and locations to shoot, we can show that we have a complete understanding of the places we wish to operate in."
Before coming to Ara to study the Graduate Diploma in Sustainability and Outdoor Education, Arthur had already enjoyed success in film-related roles, working for leading advertising agencies in Brazil.
"After many years working in this industry, I felt the need to connect to my origins, which are beyond big cities – mostly camping, trekking and taking photographs. I was also deeply concerned with the delicate state of the environmental, social and economic aspects of our society and felt the need to acquire more knowledge around all this to add to my career. Needless to say, the Ara programme was the perfect fit."
Arthur was primarily attracted to the programme's content, but also those who he'd be learning from. "The tutors' qualifications were just outstanding; they were people recognised in their field as active outdoorspeople and environmentalists with doctorates. And if that wasn't enough to convince me, the location in the South Island was outstanding. You're only a few hours' drive from the most spectacular landscapes in New Zealand, while being based in a vibrant city with lots of options around entertainment, infrastructure, culture and job opportunities."
Arthur's expectations of Ara were high and he wasn't disappointed. "I can't pick out what I enjoyed most about the programme because I enjoyed everything, the whole journey. It was very different to what I was used to in Brazil but that's an absolutely positive thing. Rather than being purely focused on classroom time, it places more responsibility on the student and how you manage your own study and time. It's a different way of learning and it's great!"