In a world where people are becoming increasingly obese and malnourished, Stacey van Maanen recognised the need for nutritionists. "I want to educate people about food and the benefits of eating right and exercising." Plus, she says, "I love food!"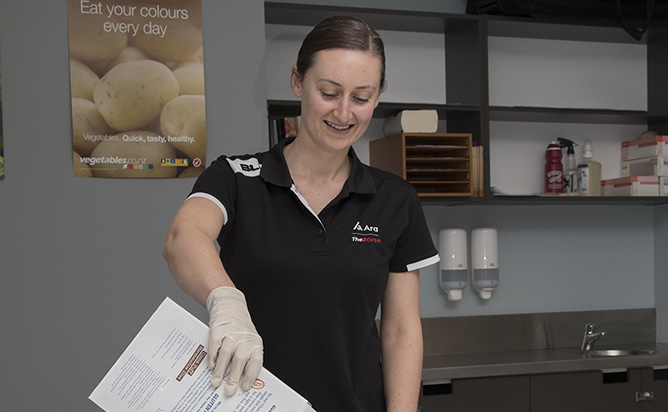 Stacey already had a Bachelor of Science majoring in psychology from the University of Canterbury when she enrolled to study the Bachelor of Applied Science in Human Nutrition at Ara.
The contrast in teaching styles at the two institutes quickly became apparent to Stacey when she started her Ara degree. "The classes are small so there's a lot of interaction and discussion. It's a lot more personal than being in a large lecture theatre where the lecturer doesn't even know your name. You get to know your classmates and tutors and it's a very relaxed environment. The tutors are friendly and approachable. They make time for everyone and they're very considerate."
Stacey believes the breadth of topics covered at Ara have equipped her well for a career as a nutritionist. "Learning anatomy and physiology, chemistry and fitness assessment in the first year really increases your understanding of the higher-level papers that are more specific to nutrition. And with this degree, you also learn a lot about health promotion and physical activity which are key in being able to work with people in a holistic way."
As is the case with most Ara programmes, Stacey's degree included workplace experience (130 hours in both her second and third years). Her first placement was at the Department of Corrections, educating offenders about health and nutrition. "Although I found it challenging it was a great learning experience for me," she says. "I had to learn how to cope with a challenging group but also how to act professionally."
When Stacey was preparing for her final exams, one of her tutors advised her of a job vacancy at Ara. She decided to apply and is now working as an allied health technician and support person.
"My role has three parts," Stacey says. "I help with fitness testing and nutrition at The Zone, which is Ara's sports science and wellness centre. I'm also a lab technician for sports science and nutrition which involves setting up, maintaining and purchasing equipment, and I do some administrative work for the Bachelor of Applied Science degree work placements."
At the same time, Stacey is working towards becoming a Registered Nutritionist. In the future she's keen to add to her experience in the nutrition and health promotion areas.