Belinda Baird started her career in business administration and financial analysis. Then she owned and managed her own small businesses before returning to the corporate world 11 years ago to work in human resources.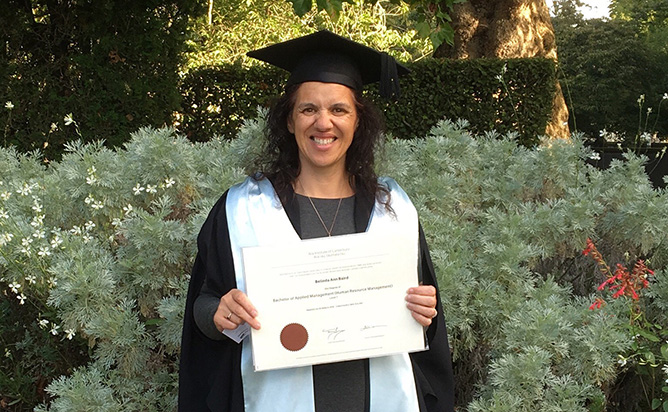 When she decided to do some study, her initial plan was to take a couple of papers at university. But after a colleague suggested she could study towards a whole qualification instead, she began researching diploma options at Ara. While on Ara's website, she discovered that her many years' work experience could count for credit recognition towards a qualification.
Wanting to find out more, she went to an information evening at Ara's Centre for Assessment of Prior Learning (CAPL). "A CAPL staff member advised me that I had enough work experience to apply for a degree," Belinda says. "So I did."
In just 12 months, and while she continued to work full-time, Belinda achieved a Bachelor of Applied Management specialising in human resources.
"The CAPL process was amazing," she says. "The reflective journey was very rewarding and empowering. To look back on where you've come from and understand why you know what you know was a very powerful tool. The step-by-step process that CAPL has in place was extremely helpful to navigate through your story, refining it as you went."
One of the challenges Belinda experienced was having her work critiqued. "I'd hand in a report that I thought was really great, only to have my facilitator question me and I'd have to re-write something. But it was always improved by his suggestions so it was a fantastic process to go through and to see something become even better."
That support and encouragement helped Belinda achieve a great outcome. "My facilitator was a very reassuring person who encouraged me and gave me belief in myself throughout the entire process. There were often times when I thought my work was good, but he'd push me a little further in a supportive way to make it great."
Belinda says her qualification reinforces her standing within her HR team and shows that she's a knowledgeable source and an asset to the team. "I've grown as a person and as an HR practitioner because of this journey."
Her advice to others considering the CAPL journey? "Go for it, it's a fantastic experience!