Henare Kaa didn't start playing the drums until he was 16 but it didn't take long before he knew he wanted to be a professional musician.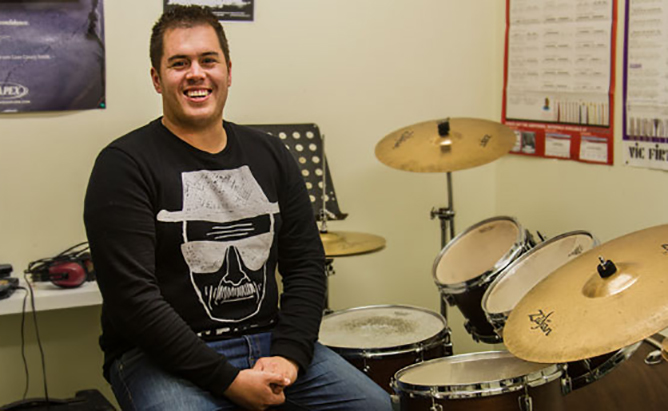 At the time Henare was at Aranui High School's bilingual unit, immersed in Te Reo - another of his passions. His music teachers there had a big influence on him and got him thinking about music as a career.
"They were right into playing New Zealand music," he says. "One of my teachers - Oakley Grenell - was doing really well as a musician and he still is. I wanted to be like them."
After completing a bridging course, Henare was accepted for a Bachelor of Music Arts degree at CPIT (now Ara Institute of Canterbury). "Everyone had years and years more training than me so the next battle was keeping up with my peers. I just wanted to be good at my instrument, be able to play all types of stuff, not just one type of music, and obviously make a success of it."
When he started his degree, Henare had no appreciation of jazz, in fact he thought it was 'elevator music'. That perception quickly changed. "It is definitely by far the most sophisticated music that I know. It opens the door to everything else. If you play jazz, you have all the tools. It's like a shortcut to every other genre, I guess."
Now, having completed his degree, Henare has established a career as a professional musician -and a busy one at that. He works with many of New Zealand's top recording artists, including Shapeshifter, Anika Moa, Tiki Taane, LA Mitchell and The Exponents.
He's also helping the next generation of musicians into the industry by sharing his expertise on the drums. "I love teaching. There are gonna be students in the next few years that just blow people out of the water."