Ara to welcome visitors to January Open Day
Ara will welcome a wide range of prospective students- from school leavers with NCEA results in hand, to adult learners looking to change career, upskill or re-enter the workforce- to Open Day on Thursday.
With 150 study options to explore at Ara, including business, engineering, art and design, computing, trades, hair and beauty, music, social work, nursing, midwifery and food and hospitality - there's something for everyone!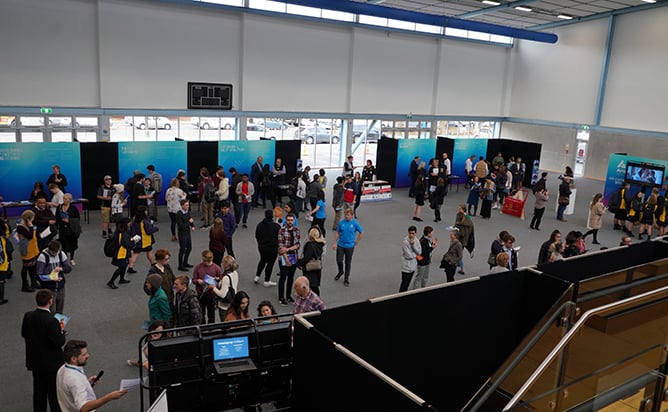 Tutors will be on hand to answer any questions and discuss the certificates, diplomas, degrees and postgraduate qualifications available across a wide variety of subjects.
Visitors will be able to attend information sessions to learn about various study areas and take campus tours to find out about the facilities and range of student support services. They can also enrol on the day (ID such as a passport or birth certificate is required).
If students are already enrolled to study at Ara in 2020 they can take advantage of Open Day to check out their classrooms, visit the library, get their student ID and look into their transport options.
Ara Open Day is on 30 January, 2 – 5pm at the City campus (Christchurch), Woolston campus, Manawa campus (Health Precinct), and Timaru campus.
Take a virtual tour…
A group of innovative Ara students from across the institute have developed an interactive campus experience which they'll debut on Open Day at the City campus.
Last year, Josiah Kerr, an IT degree student planned a 'Virtual Tour' project, inspired by other Smart Campus projects within the Enterprise and Digital Innovation (EDI) department. Quickly he realised he needed the skills of students from across the institute to really bring his ideas to life.
Kerr approached various Ara departments and brought on board IT students Farran Ram (content) and Sean Ryan (code), design student Paolo Siat (graphic design) and music arts student Jacob Si'ave (sound).
"This has been a first for Ara. Students have never really worked across departments like this before, and it's really great that it happened now," Project Manager, Kerr says.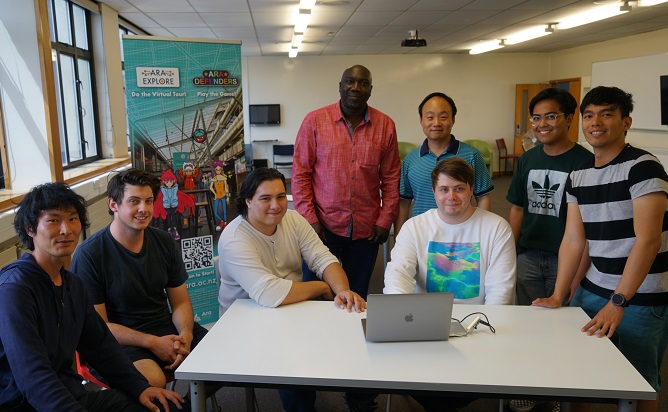 The Virtual Tour Team, left to right: Seated: Yutaka Kawakami (Programming), Dylan O'Callaghan (Game Art), Josiah Kerr (Project Manager) and Sean Ryan (code).
Standing: Tutors Dr Bernard Otinpong and Dr Luofeng Xu, and students John Ymbong (Design) and Paolo Siat (graphic design).
On Open Day prospective students will be able to visit the Ara Explore website where they can choose between being guided through a virtual tour of the City campus or playing a demo version of the virtual tour game Ara Defenders. The final version is due to be released around March 2020.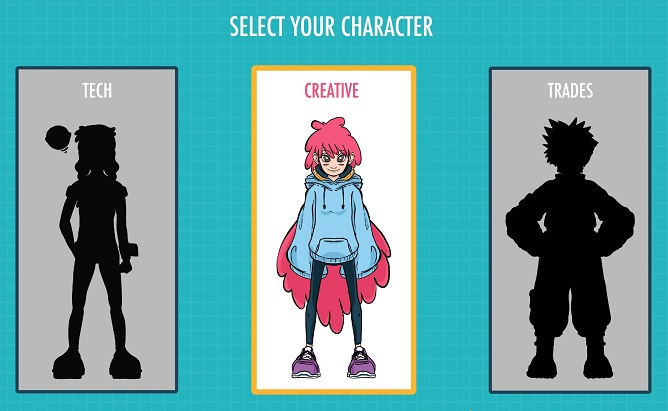 A preview of the Ara Defenders game characters
"On Open Day we'll take people through a virtual experience. We want it to be like you're getting shown around by a fellow student or a friend, who's like 'Hey I know this area and the stuff you can do here!'," says Ram.
"The demo version is a really nice taster- an aperitif of the game," Ram says. "Game players will get a chance to fight off some of the baddie characters we've created, meet a mini boss and finish by getting a key, so when the final game comes out they'll be a step ahead!"
This project was made possible through the awarding of a grant from the Ara Foundation. EDI tutors Dr Bernard Otinpong and Dr Luofeng Xu have provided ongoing guidance, and the project team has now grown from five to about 13 students.