Ara delivers a new early-parenting education course
In response to a shortage of qualified "transition-to-parenting" educators in New Zealand, Ara Institute of Canterbury has worked with service providers to develop and launch a new Diploma in Pregnancy, Childbirth and Early Parenting Education.
Programme Leader Lorna Davies has been working in the field as a midwife for 30 years and has experience running her own business as an antenatal facilitator in Christchurch. She says that Ara has filled a crucial gap in the education market, as this type of programme hasn't been provided in New Zealand since 2016.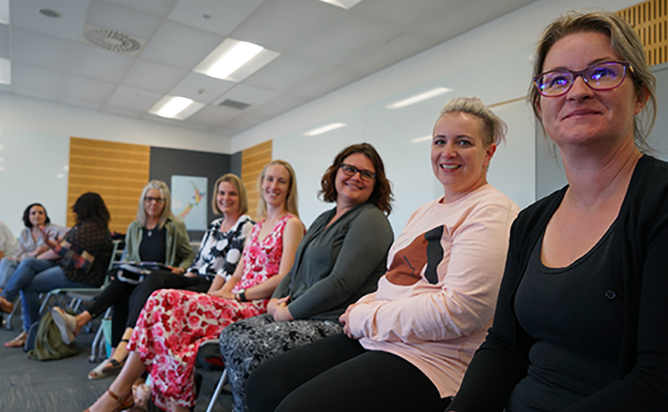 The new students on the first day of the programme
"New Zealand is currently dealing with a national shortage of qualified antenatal and parental education facilitators so there are excellent employment opportunities for graduates, either as independent facilitators or working with health boards, Parents Centres, Plunket and other providers."
"The programme also provides an excellent foundation of knowledge and could serve as a move into further study in midwifery, social work and other health subjects."
The programme curriculum has been designed in collaboration with an advisory group containing representatives from Plunket, Great Fathers New Zealand, Parents Centre, Barnados, New Zealand Breastfeeding Alliance and Brainwave Trust.
"These organisations are really important in terms of giving us advice and offering their expert perspective, so we can create and deliver the best programme possible," Davies says.
Tessa Barnes, from Plunket says there's a great demand from the community for qualified antenatal facilitators. "Plunket currently provides pregnancy and parenting courses, so we are an employer of qualified childbirth educators. In the past, there hasn't been an external qualification to produce a steady stream of qualified 'transition-to-parenting educators'."
"We're really excited to see this qualification launched at Ara with these first 30 students, as it means that in a few years we're going to have a pool of qualified facilitators able to provide pregnancy and parenting education around New Zealand."
Katie Hodgson, a student studying the diploma, says, "Since having two children of my own - and I'm now pregnant with my third - I've always been interested in childbirth. I've had two really good births and I feel that other people should have the opportunity to benefit from my experience."
The diploma covers all aspects of pregnancy, labour and childbirth early parenting and early childhood development.
Throughout the two-year programme students will attend three wānanga (intensive workshops), undertake significant work-integrated learning alongside a qualified antenatal educator and participate in family-centred follow-through.
Lorna sums up by saying, "We're describing the programme focus as "transition to parenting", instead of childbirth education, because we're trying to get our students to think of their role as supporting people to become parents."
"Our students will get to follow the journey of a pregnant woman and her family. This could mean they're invited to support the parents and whanau at the birth and then to continue this support throughout the remainder of their time on the programme. This will give students a real insight into the world of new parenting, the process of parents going back to work and all the other challenges they face - we think that's a really valuable experience for students."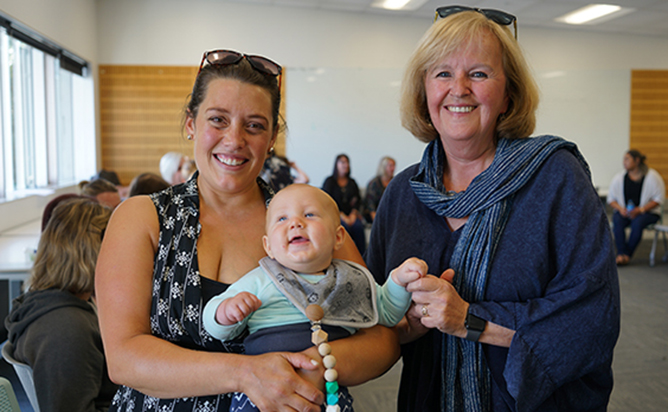 Student Lena Whetton and her baby Kobi with Programme Leader Lorna Davies
Students will also have an opportunity to observe a virtual birth, using the virtual reality (VR) birthing unit which was introduced to midwifery students at Manawa campus in late 2019.
Davies will teach the programme alongside lecturers Cara Smart and Dr Rea Daellenbach who works as a sociologist.
Using a blended delivery model of online and face-to-face learning, this programme can be studied anywhere in New Zealand. Over the last three days a wānanga was being held with the programme lecturers and students, to welcome them and establish a group bond.